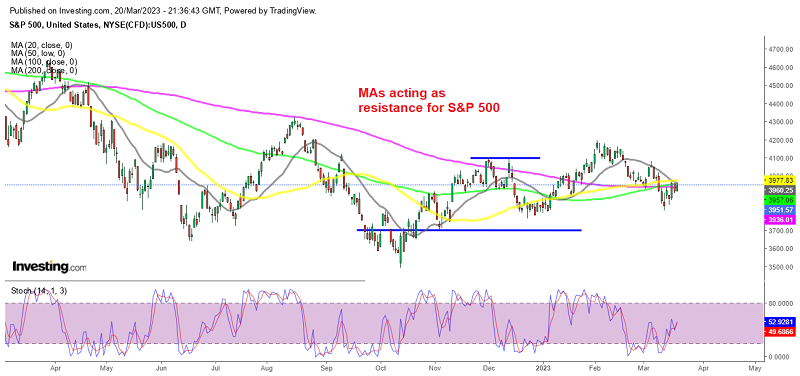 Main Indices Stabilize Ahead of Tomorrow's FED Rate Decision
UBS and Credit Suisse were forced to merged together by Swiss regulators in a bid to restore investor confidence in the global banking system, causing US stocks to close higher yesterday, after being bearish since early February. Though investors were seeking safety in Gold in particular, the movements were not significant. However, First Republic's shares continued to fall, with JPMorgan CEO Jamie Dimon said to be leading talks about stabilizing the bank.
The banking sector's turmoil comes ahead of the FED's rate decision tomorrow. In Europe, Credit Suisse bond prices plunged as investors reevaluated similar European bank debt, but overall indices have shown stabilization for several days.  Dow Jones Industrial Average jumped closed the day 382.60 points, or 1.30% higher, to end up at 32,244.58 points. Meanwhile, the S&P 500 rose by 0.89% to end the session at 3,951.57 points.
The instability in the financial sector since early this month has lowered the odds for the FED's interest rate decision tomorrow. There is a 73% chance of a 25 bps rate hike, according to CME Group's FedWatch. The other roughly 27% is in the no-hike camp, anticipating that Chairman Jerome Powell may start to ease his aggressive tightening campaign that began in March 2022, in the face of the emerging financial contagion.
That comes 2 weeks after markets were mostly pricing in a 50 bps hike for this month's meeting. Some argue that a FED rate hike tomorrow would be a mistake, even if it is by 25 basis points. After performing poorly last week, energy stocks in the S&P 500 have bounced back yesterday. The sector saw a rise of 2.2%, reclaiming some of the ground lost during the previous week's 7% drop. The materials sector was the next best performer on Monday, with an increase of 1.7%. Although moving averages have been acting as resistance on the daily chart, at traders wait for tomorrow's FED decision.