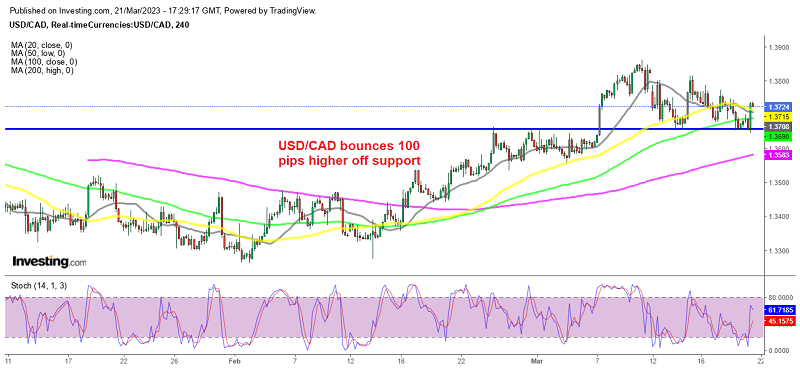 USD/CAD Bounces Off Support, After the Softer February CPI Report
USD/CAD has been bullish since early February, but retreated lower this week as risk sentiment started to improve. Although, saw a jump after the release of weaker-than-expected consumer inflation data. This caused the CAD to weaken and the USD/CAD moved higher as a result, although the USD is also gaining some momentum after retreating for several days.
Th 20 SMA (gray) and the 50 SMA (yellow) which were acting as support on the H4 chart, but the previous high at around 1.3650s which has turned into support, held the decline and the price turned bullish from there. Buyers entered the market, causing a sharp upward movement over the past two hours. It seems that they took advantage of buy orders around the 1.3650 area, before turning the tide and pushing the price higher. This upward movement has brought the price back above all moving averages, so it seems like the uptrend might be resuming again after the CPI report from Canada which was slightly softer than expected. So, we will try to buy the retraces lower in this pair.
Details of the Canada CPI for the Month of February 2023
February CPI came at 5.2% versus 5.4% expected
January CPI was 5.9% (were expecting 6.1% at the time)
CPI MoM 0.4% vs 0.5% expected.
Prior CPI MoM was 0.5%
Food prices rose 10.6% year-over-year for the seventh consecutive month of double digit increases
Energy prices fell -0.6% year-over-year following a 5.4% increase in January. Gasoline prices fell -4.7% the first yearly decline since January 2021
Core CPI measures:
CPI YoY core 4.7% vs 4.8% expected.
Prior core YoY 5.0%
CPI core MoM 0.3% vs 0.1% last month
Median 4.9% versus a 5.0% last month
Trim 4.8% vs 5.1% last month
Common 6.4% vs 6.6% last month
The CPI year on year is at its lows level since April 2020, which takes off the pressure from the Bank of Canada to resume raising rates, as they stopped in the last meeting.