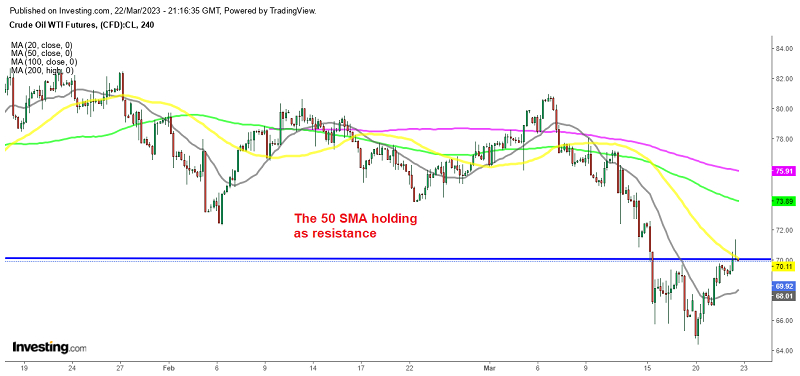 Is This a Retrace or a Trend Reversal in Oil?
Crude Oil fell below the support zone around $70 earlier this month, as the banking crisis spread from the US to Europe, which increased risks of an economic downturn. The price was heading for $70, but after Tuesday's huge buildup in the private API crude inventories, buyers were hesitating below the $70 level.
Although, the bullish momentum picked up again yesterday after the EIA reported a weekly build in crude inventories of 1.1 million barrels, which was more than expected but less than the previous week's build of 1.6 million barrels. However, the report also showed significant draws in fuel inventories, with both gasoline and distillate fuel stocks down.
Crude oil stocks were at 481.2 million barrels at the end of last week, which was about 8 % above the 5-year average for this time of the year. API had estimated a higher crude inventory build of 3.3 million barrels, which added to the pressure on prices. Besides that, the Gasoline inventories decreased by 6.4 million barrels, while middle distillates decreased by 3.3 million barrels. Gasoline and middle distillate production also increased from the previous week.
So, buyers tried the upside once more, pushing the price of US WTI Oil above the 50 SMA (yellow) on the H4 chart, to $71.30s after the FED rate hike, which is where they stopped. The price retreated lower in the last few hours of the evening and closed right at $70. So, we will see if buyers will continue pushing higher or if the downtrend will resume again. We will have to wait until the day closes to see which direction Oil has decided to go.
EIA Crude Inventories for the Week
Crude inventory shows a build of 1.117M versus a draw of -1.565M
Gasoline showed a drawdown of -6.400 million versus -1.677 million estimate
Distillates showed a drawdown of -3.313 million versus estimate of -1.500 million estimate
Cushing -1.063 million versus -1.916 million previously
EIA production 12.3 million barrels which is up 100,000 barrels per day or +0.82%
Refinery utilization 0.4% versus 1.0% estimate