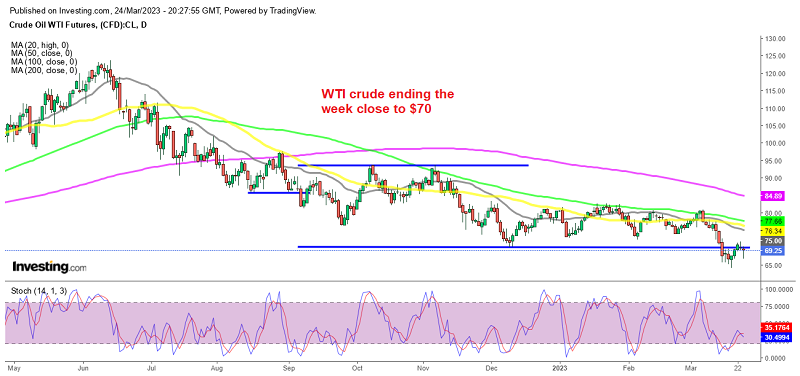 Crude Oil Sticks Around $70 As Global Worries Still Prevail
Early this month crude Oil took a dive and broke below the support zone above $70, tumbling down to $64.30 on Monday, as the banking crisis spread in Europe, with the Swiss Credit bank failing and being taken over by one of its rivals such as the UBS bank.
But, the intervention buy authorities improved the sentiment and on Monday Oil prices started the reversal after hitting their lowest levels in 15 months. The May delivery Brent contract rose to $40 per barrel by Thursday as the bullish momentum continued, while the USD turned weaker. The US WTI crude increased to $71.70before retreating back down.
The crisis in the western banking sector, including the downfall of Silicon Valley Bank and the takeover of Credit Suisse by UBS, continue to keep under pressure Oil prices. Sources within the OPEC+ alliance have indicated that banking uncertainty is contributing to fears of another financial crisis like the one in 2008. However, the sources also note that the drop in Oil prices is likely temporary and not based on supply-demand fundamentals. They stress the need to monitor the potential effect of banking uncertainty on central bank interest rate decisions and inflation.
OPEC has championed stability in the oil price landscape over the past year to encourage long-term investment in spare capacity and avoid supply shortages. Besides that, analysts at UBS and Goldman Sachs have indicated that the wider financial market turbulence is unlikely to affect crude Oil production rates, but may result in investors pulling out of risky assets like Oil and investing in safer corners of the market.
So, that's one of the reasons crude Oil returned back down below $70 by the end of the week. Another reason is the fact that the US government backed away from its intention to immediately refill the Strategic Petroleum Reserve. Comments from Energy Secretary Jennifer Granholm on Thursday that it will be "difficult" to refill government Oil reserves this year sent crude Oil lower.
Last year, the government depleted oil reserves to reduce spiking world energy prices, and the Biden administration had previously indicated that it would restock inventories if prices traded around $67 to $72 a barrel. However, the current low inventory levels, which are the lowest since 1983, make it challenging to refill the reserves this year.