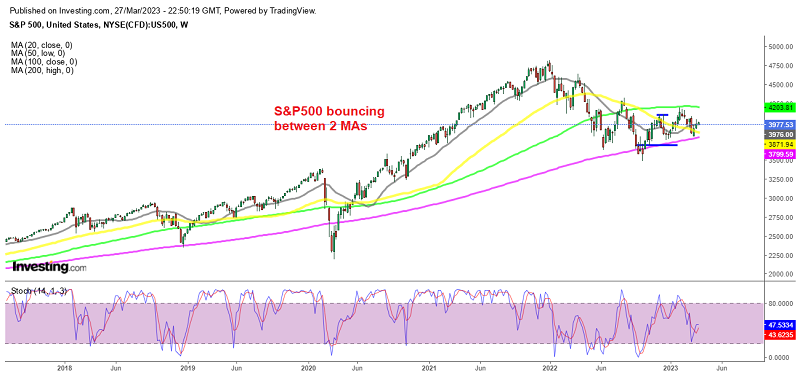 Stock Indices Higher But Remain Hesitant, As Bank Shares Jump
Stock markets were bearish for most of last year as central banks delivered the fastest pace of rate hikes on record. Moving averages which were acting as support on the weekly chart in S&P500 were broken, but the 200 SMA (purple) held as support. The price started to bounce although the 100 weekly SMA (green0 turned into resistance and since late last year the price has been bouncing between these two moving averages in SPX, while other major stock indices have also been trading in a range.
Yesterday, stock markets continued to rise following last week's gains, as investors tried to move on from the crisis in the regional banking sector caused by the collapse of Silicon Valley Bank. The blue-chip stock index increased by 0.5%, while the S&P 500 rose by 0.2%.
The SPDR S&P Regional Banking ETF (KRE) rose by nearly 1%, with First Republic surging by 12% and PacWest gaining 3.5%. Market sentiment improved as central bankers took steps to alleviate recent challenges, including an extension of the liquidity facility set up by the Federal Reserve, which significantly eased concerns about a series of bank runs.
In addition, US authorities were reportedly considering expanding an emergency lending program for banks, which could give First Republic more time to shore up its liquidity. First Republic had ended the previous week down by 46.3%, with investors contemplating whether a plan from a group of banks to deposit $30 billion would be sufficient to bolster its balance sheet.
However, technology shares fell as an increase in interest rates lowered hopes for a better outlook for growth stocks. Alphabet slid by 3%, while Meta slipped by 1.5%. Despite the recent turmoil, the S&P 500 is still expected to finish March flat, with Q1 ending at the end of the week with an increase of more than 3%. Although, it will depend on the FED and the economic data to show where stock markets will go.