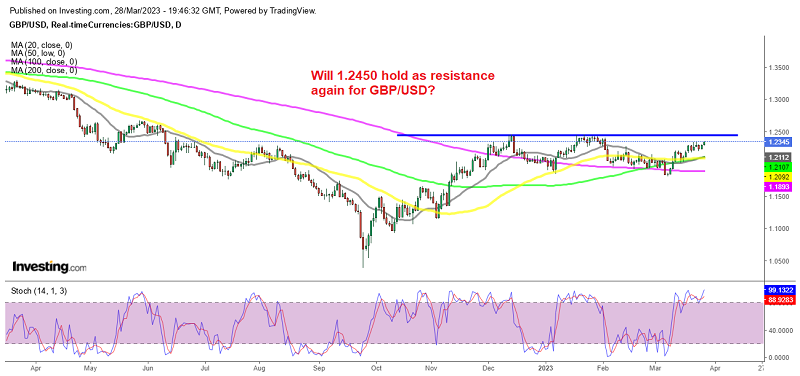 Can GBP/USD Break the 1.2450 Resistance As High Inflation Keeps BOE Hawkish?
GBP/USD reversed higher ion October last year after a dip below 1.04 at the end of September and pushed to 1.2450s in December last year. Buyers retested that level again in January, but couldn't push above it, so a resistance zone has formed around there.
Moving averages have turned into support and we saw a retreat below 1.20 early this month, but the 200 SMA (purple) held as support at 1.1830s on the daily chart and buyers came back as the USD started to retreat again. GBP/USD has gained more than 5 cents since the second week of this month and yesterday this pair continued to rise due to a weaker USD and supportive news from the UK economy.
The USD has been retreating this week due to diminishing fears of another banking crisis. Despite some medium-sized US lenders facing difficulties with higher interest rates and Credit Suisse being taken over by UBS, the market believes that changes to bank balance sheets since 2008 have reduced the likelihood of another financial crisis. This has led to an increase in demand for riskier assets, including those linked to global growth, at the expense of perceived safe havens such as the JPY, CHF and USD.
The GBP has also been boosted by comments from Bank of England Governor Bailey, who stated yesterday that the central bank will continue to focus on fighting inflation, which is a bigger concern in the UK than in other countries, as it continues to remain above 10%. But, he also mentioned that interest rates will not have to rise as high as they did before the last financial crisis, which suggests that the UK may be close to the end of the fastest series of rate increases in thirty years. So, the GBP remain bullish and this pair is heading toward the resistance zone, where we are planning to open a sell GBP/USD signal.