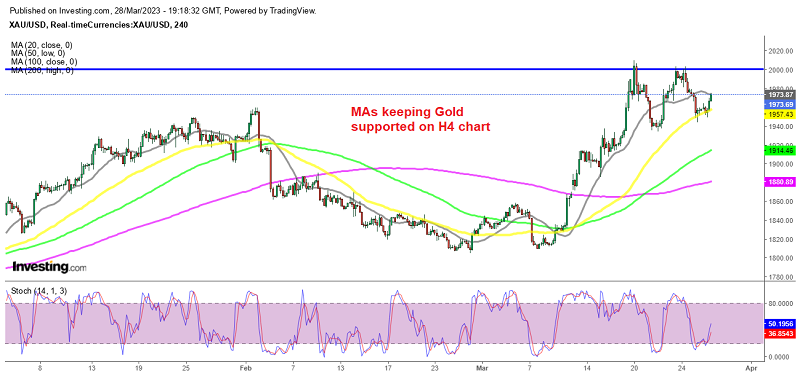 You Can't Keep Gold Bulls Down Despite the Retreat in Safe Havens
It seems that markets are experiencing a period of stability, with traders attempting to move past recent banking sector turbulence. The partial takeover of SVB by First Citizen bank, along with the increased US dollar liquidity, has helped to calm markets. However, despite the stabilization, there is still a sense of uncertainty and caution among traders, as the rebound in risk assets is not looking particularly strong, with slow gains. Looking ahead, traders are anticipating important US growth and inflation data later in the week, after yesterday's Conference Board consumer confidence report which showed an improvement in February.
Safe haven currencies such as the JPY and the CHF were in retreat yesterday, but Gold was grinding higher. The likelihood of a 25 basis point rate hike at the upcoming May FED meeting is currently estimated to be around 50%. Following the rate hike, it is anticipated that there will be a pause in further rate increases. However, the markets are currently pricing in two 25 basis point rate cuts by the end of the year, as well as at least four more quarter-point cuts in 2024, which should be bullish for GOLD , but there's still plenty of time until then.
Gold was testing the $2,000 level and pushed above it twice last week, but it couldn't hold the gains above $2,000 and retreated lower. Although, the 50 SMA (yellow) held as support on the H4 chart despite being pierced twice. yesterday we saw a bounce off that moving average and XAU/USD climbed around $25, pushing to $1,975 and heading toward the major zone at $2,000 again pretty quick.
One of the outside reasons for the bullish momentum in Gold is the weakness in the USD. The USD index retreated about 0.5%, making the greenback-denominated precious metal less expensive for holders of other currencies. Although, right now Gold bulls are facing the 20 SMA (gray). But, if they push above it XAU will reach $2,000 again, probably this week.