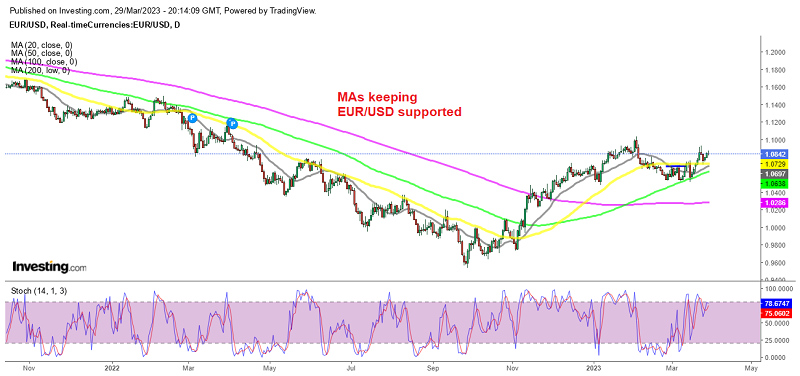 Can the Divergence Between the ECB and FED Push EUR/USD Above 1.10?
EUR/USD has been experiencing a steady increase since late February, which is attributed to the belief that the European Central Bank will implement tighter monetary policies and continue raising interest rates further than the US Federal Reserve.
The recent gains are a continuation of the bullish trend that began in October 2022. The relative lack of volatility in trading yesterday may was due to the absence of major economic releases as well as a cautious approach from investors ahead of the release of key German and Spanish inflation data on today, which are a strong indication of tomorrow's CPI inflation report from the Eurozone.
Although overall, the sentiment remains bullish for this pair. It came from the abyss when it fell below 0.95 in late September, but buyers have been having difficulties pushing the price above 1.10. EUR/USD peaked above that major level in early February, but reversed back down pretty quickly. Although, with the ECB keeping the hawkish rhetoric after the bank run abated, the Europe is likely to gain against the USD, unless the data in the US comes in very strong in the coming weeks.
Nordea Research expects the US Federal Reserve to raise interest rates in 25 basis point increments in May and June, with the peak funds rate reaching between 5.25% and 5.50%. Nordea does not anticipate rate cuts until at least 2024, as inflation concerns outweigh financial stability concerns. The European Central Bank is expected to raise rates by 25 basis points at each of the next three meetings, leaving the deposit rate at 3.75%. Nordea anticipates higher yields for longer bonds in the coming months, and a rising trend for EUR/USD.
Danske Research, on the other hand, maintains a sell-on-rallies bias for EUR/USD. While the market consensus may have settled following a single Deutsche Bank CDS trade that sparked panic trading, Danske believes there is still some potential for upside in the short term as bank concerns fade and there is a potential for a repricing of the ECB and the FED. However, Danske suggests that clients should look for strategic selling opportunities arising from this rally.