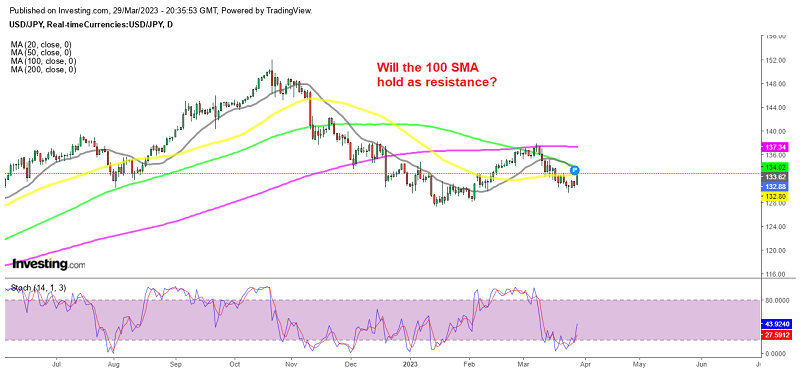 USD/JPY Bullish Reversing Pattern, Despite Hawkish Comments by New BOJ Gov
The JPY which is considered a safe-haven asset together with Gold and the CHF, has been weakening against the USD this week, as fears of bank failures have diminished after the intervention by authorities. The actions taken by central banks and governments to provide liquidity have restored confidence in the banking sector, which has put safe-haven assets at risk.
However, JPY decline is expected to be limited until the banking sector receives an all-clear signal. USD/JPY was surging for most of last year, as the FED kept raising rates while the BOJ remained on hold. But in October we saw a reversal as the Bank of Japan tweaked the yield curve and this pair fell below 128.
But, the USD resumed the bullish momentum in February and this pair gained around 10 cents, but buyers couldn't push the price above the 200 SMA (purple) on the daily chart. This month the decline resumed as the banking sector crisis lowered the odds of further FED rate hikes beyond May, while the JPY was benefiting as a safe haven. Although, with the crisis abating this week the bullish momentum is picking up again.
Shinichi Uchida, the new deputy governor of the Bank of Japan, stated that the central bank would consider adjusting its current loose monetary policy, including yield curve control, if necessary. This should have been a bullish comment for the JPY, sending this pair down, but markets are not buying too much into his words, as yesterday's inflation report showed a slowdown in the Tokyo CPI.
The Bank of Japan has maintained ultra-low Japanese bond yields since 2016 to achieve sustainable and stable inflation of 2%. Despite inflation in Japan currently running at around 4%, the central bank expects inflation to fall below its target of 2% this year, so we might not see a move by the BOJ.
Core PCE inflation ticked higher to 4.7% this month, which should keep the FED hawkish and the USD bullish
3 days ago