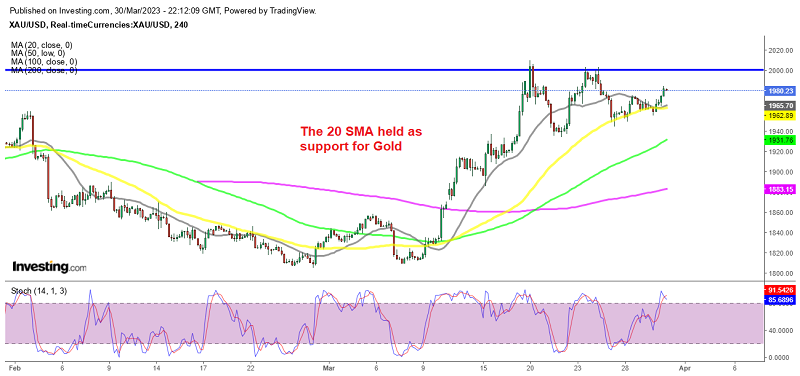 Is Gold Hesitating Close to $2,000 Again?
Gold has been showing resilience this month, as buyers keep buying dips on retraces and the price keeps heading for the significant level at $2000. Traders are getting a clearer idea that FED will stop hiking interest soon, which is weakening the USD and helping XAU/USD remain supported. FED chairman Jerome Powell reportedly communicated to Republican Congress people in a closed-door meeting that the central bank's forecast is for another 25 basis points (bps) hike this year, which means that they will stop after that and probably reverse later in the year.
However, market uncertainty surrounding this forecast is still making Gold bulls hesitate at the $2,000 level.  Higher interest rates make non-yielding assets like Gold less appealing but they will start to come down late this year or early next year, so Gold prices have remained near $2,000 and consistently rising since October.
Besides that, concerns about the global banking system grappling with higher rates have also increased demand for safe-haven assets like GOLD . However, it appears that markets are now confident that issues at some banking names will not lead to another widespread financial crisis, which was the reason for the latest retreat to the 50 SMA (yellow) on the H4 chart.
The Gold market is anticipating data cues for the rest of the week, with most of the significant releases scheduled for today including PCE Price Index inflation data out of the US, personal income and personal spending, the Chicago PMI University of Michigan's monthly consumer sentiment and inflation expectations survey. All of these have the potential to influence interest-rate views and, therefore, Gold. Although besides some fluctuations, Gold remains in a clear uptrend in both the short and medium term, even at its current elevated levels, so we will see if buyers can push above $2,000 and hold there.