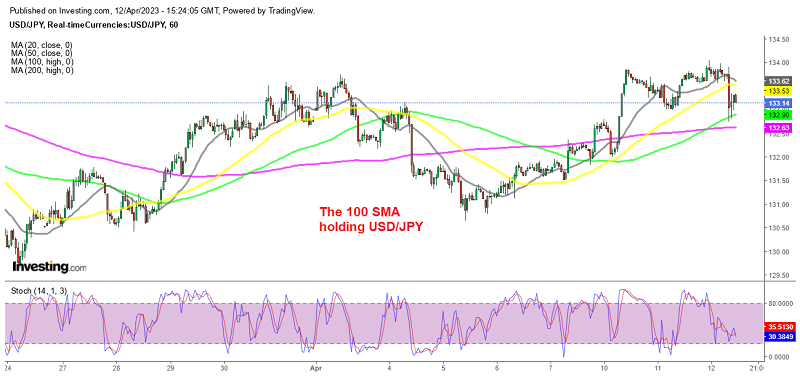 USD Dips on Lower Headline CPI Numbers from the US
The USD has been showing weakness as the FED prepares to stop rate hikes, although traders were/are still expecting a final hike of 25 basis points in May. Before the release of the inflation figures, the market had priced in a 75% probability of a 25 bps increase in the May meeting. However, this probability has fallen to 67% after the inflation report. Market participants who believe that the current cycle of interest rate hikes is near its end will now feel more confident. Today's CPI numbers revealed some positive news for them, with inflation being lower than expected, although core inflation is more mixed.
As a result, the US dollar has weakened across the board, as headline figures show that the FED is gaining control over inflation and won't need to keep the policy tightening. The decline in energy prices has contributed to this, and it has also provided the FOMC with some breathing room to allow the effects of higher interest rates to reduce core inflation over time, as well as for the lagged shelter numbers to take effect.
As a result of this news, the US dollar dipped 60 to 100 pips against major currencies, while US 2-year yields have decreased by 15 basis points due to a rally in front-end fixed income. Below is the CPI inflation report:
March 2023 Consumer Price Index (CPI) Report
March CPI YoY 5.0% vs 5.2% expected
February CPY YoY was +6.0%
CPI MoM +0.1% vs +0.2% expected
Prior CPI MoM was +0.4%
Real weekly earnings -0.1 % vs -0.4% prior
Core inflation:
Core CPI YoY ex food and energy +5.6% vs +5.6% expected
Prior core CPI YoY ex food and energy was +5.5%
Core CPI MoM +0.4% vs +0.4% exp
Prior core CPI MoM was +0.5%
Core services ex shelter % vs +0.43% prior
Shelter rose +0.6% vs +0.8% prior
Services ex shelter 0.0%
Food 0.0%
Energy -3.5%
Shelter: +0.6%
New vehicles +0.4%
Apparel +0.3%
Medical care services -0.5%
Durable goods orders showed a 0.2% increase in August, against -0.5% expected and July's -5.2% decline, which was revised to -5.6%
1 day ago