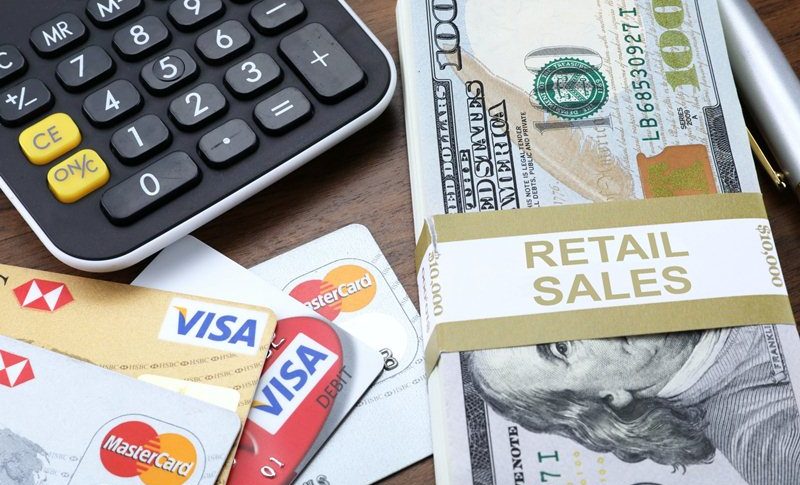 The USD Reverses to Close the Week Bullish After Weak Retail Sales
The USD started the week on the right foot, continuing the advance higher from last Friday after a decent NFP employment report, but resumed the larger downtrend on Tuesday and suffered some major losses after soft CPI (consumer price index) on Wednesday and even softer PPI (producer price index) figures on Thursday. EUR/USD surged above 1.10, while Gold headed toward $2.050 as odds of the FED continuing rate hikes diminished.
But, the retail sales on Friday reversed everything. Headline sales posted a bigger decline in March by 1.0%, after the 0.4% in February. Core sales also declined, missing expectations, although the USD surged after that. The negative data has been increasing in the recent weeks, showing that the tighter FED monetary policy is having a negative impact on the economy. This might mean recession in the US, which will be followed by a global recession, benefiting the USD as a safe haven.
US March 2023 Retail Sales Report
March headline retail sales MoM -1.0% vs -0.4% expected
February sales MoM were -0.4%
Details:
Sales ex. autos -0.8% vs -0.3% expected
Prior ex. autos -0.1%
Control group -0.3% vs -0.3% expected
Prior control group +0.5%
Core sales ex. autos and gas -0.3% vs 0.0% prior
Gasoline stations -5.5% vs -0.6% m/m prior
Electronics and appliance stores -2.1% vs +0.3% m/m prior
Furniture stores -1.2% vs -2.5% m/m prior
Restaurants +0.1% vs -2.2% m/m prior
FED member Goolsbee appeared on a TV debate on Friday after the retail sales report, and he was asked about the views on the possibility of the FED increasing interest rates in May. Goolsbee initially indicated that the FED would still need to raise rates slightly based on their previous speech.
However, in the current conversation, he seemed to be taking a more cautious approach and emphasizing that any decision on raising rates would depend on economic data. Despite this change in tone, the market is still anticipating an 80% chance of a rate hike on May 3, so this cautious language is unlikely to have much impact on market expectations.
Comments from Goolsbee on CNCB
Retail sales number might show some of the lag of mon pol
If credit conditions are tightening, that does 

the Fed

's work
With this retail sales number, we might be seeing some of the lag of mon pol
I think 

inflation

 is coming down but there's clear stickiness in some of the numbers
I want to see all the data before deciding on May
I'm going to spend the next few weeks figuring out the amount of credit tightening going on
A mild recession is definitely on the table as a possibility