Fear Sends Risk Assets Down, As Banking Sector Vows Return
The banking sector crisis appeared in late February and escalated in early March, with a number of banks failing, including large banks such as Credit Swiss. Governements and financial institutions intervened which sved the day, but the troubles keep resurfacing.
Today it appears that the KRE regional bank index has experienced a significant decline, losing nearly 4% and falling below the early March low. The cause of this downturn is unclear, but it may be something we don't know or due to short-term buyers taking profits or selling off their positions in hopes of a rebound. Additionally, there may be a lack of potential buyers due to concerns about commercial real estate and hold-to-maturity loans, leading to compressed multiples on regional banks.
The fear is that this decline could result in deposit flight and put the FDIC in a difficult position. Many had thought that the Federal Reserve's Comprehensive Capital Analysis and Review (CCAR) would mark the end of the regional banking crisis, but after today's price action, that may no longer be the case.
The market is sending a message to the Fed that it is not happy with the surprise hike from the Reserve Bank of Australia (RBA), and if the Fed does not provide more explicit guidance at tomorrow's FOMC meeting, there could be further negative consequences.
Stock indexed have turned bearish with European bourses ending up lower at the end of the day, after being up earlier. The US index S&P 500 opened with a bearish gap at the start of the US session today and continues to slide lower, dipping below $4,100 points before retracing above this level again. Gold has surged more than $30 higher to $2,020 as uncertainty prevails.
Changes for the main European bourses at the close:
Stoxx 600 -1.3%
German DAX -1.3%
UK FTSE 100 -1.2%
French CAC -1.6%
Spain IBEX -1.8%
Italy MIB -1.7%
The Stoxx 600 closed just below the recent lows, which isn't a good sign.
Stock markets are looking very bearish today, with bank shares leading the way down as the fears resurface again
5 months ago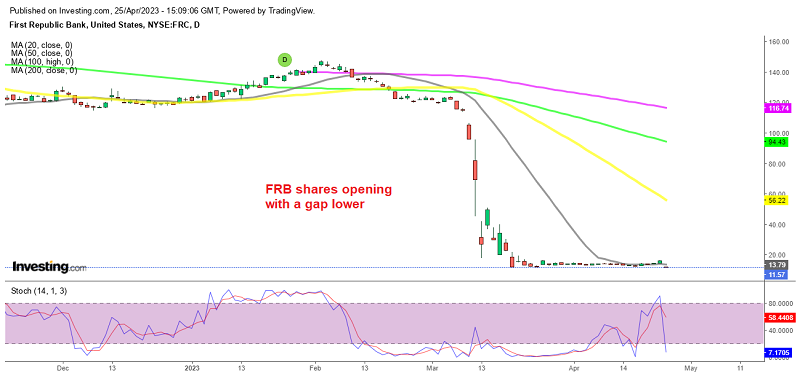 5 months ago