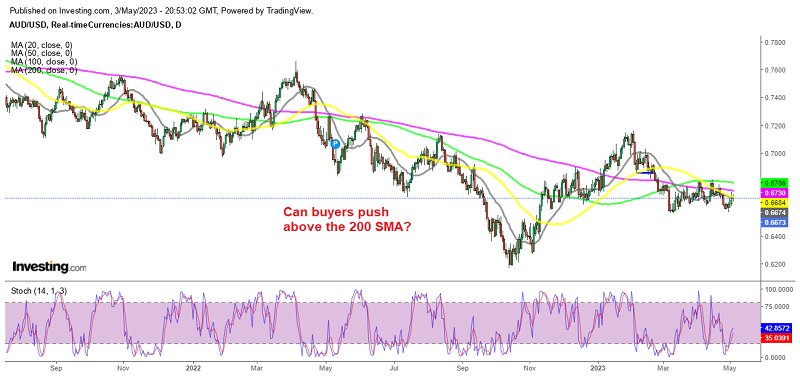 Decisive Test for AUD/USD After Hawkish RBA Expectations
AUD/USD has been bearish since the beginning of 2022 and despite the weakness in the USD since October last year, this pair continues to remain bearish on the longer term charts, as the daily chart above shows. It continued to make lower highs, while the 200 SMA (purple) has turned into resistance.
Although, with the FED stopping rate hikes now, while the Reserve Bank of Australia (RBA) resuming again after a 25 bps hike on Tuesday, following a pause in the previous meeting, some traders think that we might see a bullish reversal in this pair, especially as other major pairs have turned bullish against the USD. Following a pause last month, the RBA tightened its monetary policy, which resulted in the Australian Dollar surging over 67 cents. The 25 basis point increase raised the cash rate to 3.85%.
In the RBA's accompanying statement on monetary policy, they mentioned that the tight labor market and the increase in wages had prompted them to consider further tightening of monetary policy to ensure that inflation returns to target in a reasonable timeframe. Prior to the meeting, the interest rate markets had priced in a fifty-fifty chance of a 25 basis point hike later this year. However, with the rate hike now in place, the market is recalibrating and digesting the statement's intonation, leading to a more abrupt reaction in AUD/USD .
The recent inflation figures, released last week, have also caused some concern, with headline CPI reaching 7.0%, slightly above the forecast of 6.9% year-on-year to the end of March, but below the previous figure of 7.8%.
Looking at the daily chart, we can see that AUD/USD rebounded near the support level at 0.6560s after the RBA unexpectedly hiked interest rates. However, the price action remains erratic due to the uncertainty surrounding central banks' tightening cycles and mixed economic data. Additionally, the regional banking problems in the US have increased market volatility, which has a significant impact on the AUD due to its sensitivity to risk sentiment. Therefore, traders will need to be prepared for fluctuations in market sentiment.
But, the RBA is expected to continue raising rates after the picked up in the last meeting. According to a poll of 25 economists, a majority of 13 respondents expect that the RBA will implement at least one more 25 basis point rate hike by the end of September 2022, bringing the cash rate to 4.10%.
However, the remaining 12 economists believe that the RBA will maintain the cash rate at its current level of 3.85%, consistent with the current market pricing. Regarding the upcoming RBA decision in June, 25 out of 29 economists polled do not expect a rate hike. Looking at the views of local banks, only ANZ is predicting a 25 basis point rate hike in Q3, while Westpac and CBA are advocating for an extended pause.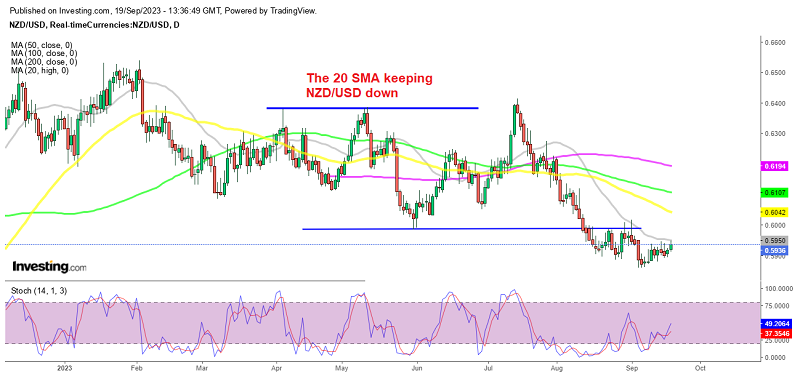 2 days ago