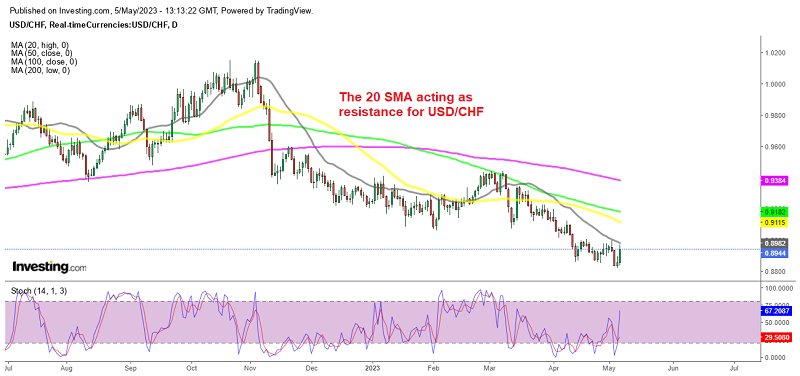 MAs Keeping USD/CHF Down As Uncertainty Keeps Safe Havens in Demand
USD/CHF has been bearish since early March, when the banking crisis started and the USD tumbled lower, while safe havens such as the CHF and the JPY attracted demand, thus surging higher. The CHF has strengthened against the US dollar, with USD/CHF falling to its lowest level since January. This bullish momentum may be a concern for the Swiss National Bank, as sharp exchange rate moves can negatively impact the Swiss economy, which heavily relies on exports. The SNB has previously intervened in currency markets to prevent sudden changes in the CHF value, but this has drawn criticism from the US Treasury Department.
Earlier today, the SNB chairman Jordan held a speech, saying that they cannot exclude further tightening of monetary policy. This week's data indicates that the Swiss economy is showing signs of strain, with consumer confidence and manufacturing PMI both declining. However, today's CPI number showed another increase in consumer inflation, which could have a positive impact on the SNB's policy and weigh on the CHF.
On the other hand, the FED raised rates by 25 basis points on Thursday as expected which was the last hike in this policy tightening race. The FED removed the phrase "some additional" rate hikes, which may be interpreted as a dovish signal, and investors responded accordingly. However, FED chairman Powell sounded more hawkish in the press conference, stating that higher interest rates had not sufficiently slowed down the economy or inflation. Despite this, the markets have priced in a rate cut in September at an 80% probability.
As a result, USD/CHF continues to remain bearish, with moving averages acting as resistance at the top. So, we are trying to open sell signals in this pair during retraces higher. The situation in USD/JPY is a bit more different, because the Bank of Japan is keeping the policy unchanged and inflation has started to cool off there, despite being less than half of the inflation in the US at the peak last year.