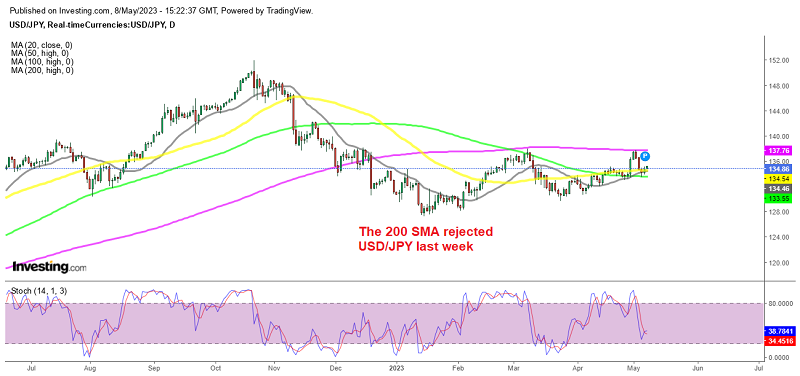 The Fight Continues in USD/JPY As It Bounces Between 2 MAs
Sellers and buyers in USD/JPY have been in a tough fight for several months now, as the Bank of Japan is keeping the relaxed monetary policy, which is bearish for the Yen. But sentiment remains soft as the global economy is experiencing difficulties due to the aggressive rate hike paths that other major central banks have taken.
So, the recent appreciation of the JPY can be attributed to the safe haven appeal amid a risk assets sell-off, that led to EUR/JPY reaching the highest level since 2008. The ECB's hawkish stance in its recent meeting has raised concerns and may continue to drive EUR/JPY higher, which is pointing to a break above the 150 level in the medium term. However, the BOJ is not expected to intervene with policy measures in the near future, so any hopes of preventing further losses in the Yen rely on overall market sentiment and the possibility of a global recession this year or next year. If recessionary fears persist, it is likely to turn the market sentiment even more negative and keep buyers interested in the JPY.
When we look at USD/JPY, the fundamental outlook appears slightly less certain due to the FED's decision to pause rate hikes and probably keep them there for a while, since Powell didn't hint on rate cuts. This has fueled concerns about a potential recession and as a result, it has led traders to increase their expectations of rate cuts in the second half of 2023.
Although, the last employment report from the US released on Friday provided a brief moment of positivity for the FED and the USD. Despite signs of an economic slowdown in the US, the unemployment rate remains at record lows at 3.5%. This should give the FED some optimism and support the remarks made by Fed Chair Powell, who anticipates modest growth rather than a recession this year in the US.
The fundamental outlook for USD/JPY is a bit less clear than that of the Eurozone, and this uncertainty may be a contributing factor to the indecision in the currency pair. Last week we saw a surge to the 200 daily SMA (purple) in this pair, but toward the end of last week, we saw a reversal which sent the price down to the 100 SMA (green).