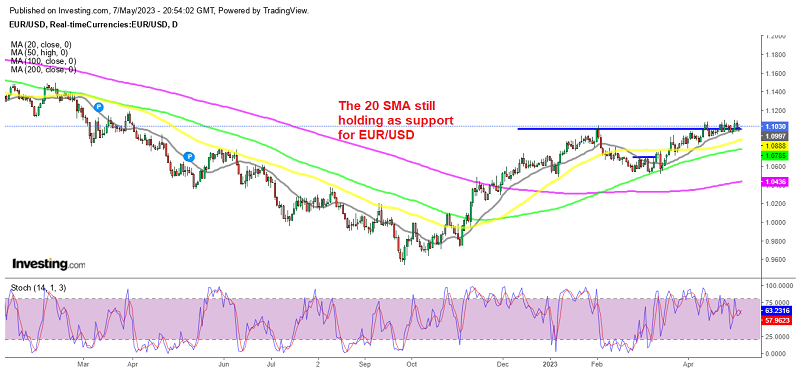 Will EUR/USD Continue Higher As ECB Keeps Hawkish Bias?
Last week the European Central Bank held its meeting and it seemed like the Euro was going to turn even more bullish, with
heading for 1.11 which has been the high in recent months. But, buyers failed to break above that major level and the price reversed back down on Friday, falling below 1.10.
The ECB has implemented a 25 basis points increase in interest rates, which was in line with market expectations. This move was not surprising, as recent data from the Bank Lending Survey indicated that the tightening measures were starting to have an effect on the economy. The ECB has confirmed that the incoming information generally supports their previous assessment of the medium-term inflation outlook, which was formed during their previous meeting.
The future path of interest rate hikes for the ECB, as well as other central banks, has become more uncertain. Market pricing suggests that another 25 basis points increase in rates could be a possibility at the next ECB meeting. ECB member Holzmann even mentioned the potential for a 50 bps increase at the current meeting. Similar comments have been made by ECB policymaker Isabel Schnabel, and today's comments indicate that the ECB may not be finished with rate hikes.
While recent inflation data has shown persistent price increases, there are indications that the ECB's tightening cycle is starting to impact other sectors of the economy. The ECB Bank Lending Survey revealed a weaker demand for loans, stricter credit standards imposed by banks, and slower loan growth. These data points suggest that we may continue to observe a decline in growth and demand in the Euro Area in the coming months.
ECB Sources from Reuters
Some ECB policymakers see 2-3 hikes ahead
Holzmann, who didn't have a vote at the meeting, was the lone holdout
Policymakers reached deal on a smaller hike in return for guidance for more hikes ahead and an APP wind down