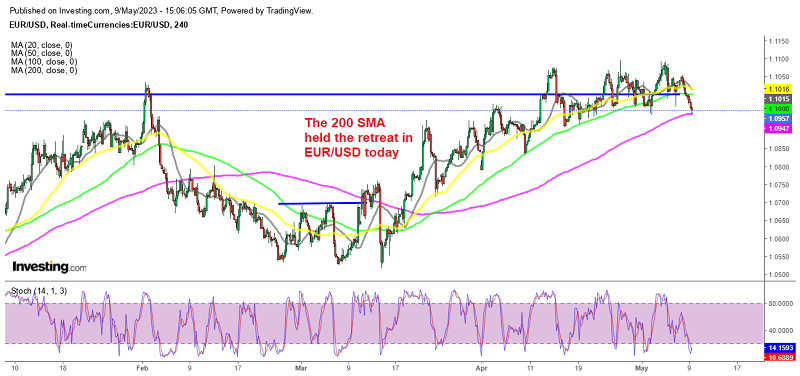 EUR/USD Testing the Downside Despite Hawkish Comments from the ECB
EUR/USD resumed the bullish trend in March after a retreat lower in February, as it became increasingly clear that the FED was going to stop rate hikes soon, after the banking turmoil in the US in particular. Buyers pushed above 1.10 in April and have had three attempts at the 1.11 level, but they have failed to push the price above there.
At the beginning of May, EUR/USD was hoovering around the 1.10 resistance level. However, it is unlikely to stay above this level unless the ECB's policy decisions give the Euro a clearer interest rate advantage over the dollar. Today we saw a failed bullish attempt, with the price briefly reacheing 1.1035 before settling at 1.0943.
That's where the 200 SMA (purple) comes in the H4 timeframe chart. This moving average hjeld the decline in the firt attempt, as the price as retraed 20 pips higher. But the pressere still remains to the downside for EUR/USD. The euro was showing a strong performance throughout last week, despite weak economic indicators from certain major European economies.
On Friday, Eurostat released figures indicating that European economic growth came to a halt in the first quarter. Yesterday we saw the German Industrial Production fall be 3.4% in April, while the Eurozone Sentix Investor Confidence dipped further  into negative territory. The ECB continues to keep a hawkish bias, with comments about more rate hikes, but the Euro is looking at the data. We are already short with a sell EURUSD signal from abov 1.10, which is looking good.
ECB's Kazimir commenting: 
Slowing hikes lets the ECB to go higher for longer.
There's plenty of ground left to cover.
Core inflation, wage pressures and high-profit margins call for vigilance.
According to available statistics, the ECB will need to maintain raising interest rates for a longer period of time than expected.
Projections point to September as the earliest time to judge the effectiveness of measures and if inflation is moving towards the target