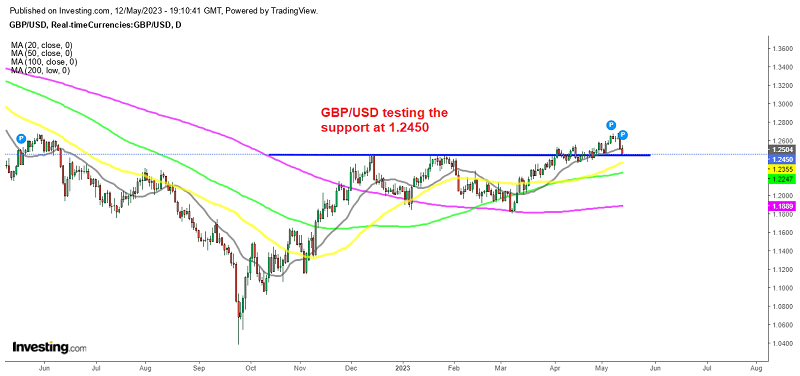 GBP/USD Ends the Week at 1.2450 Resistance After A Soft GDP Report
GBP/USD made a strong bullish reversal at the end of September, after the crash that month and has been making gains since then. It stalled at 1.2450s in September, where it formed a resistance zone, but buyers pushed above that level in early April and sent the price to 1.2680 this week.
Although the price formed a few pins up there this week and in the last two days we saw a sharp reversal after the Bank of England meeting and important economic data from the UK. According to the first quarterly estimates of UK real gross domestic product (GDP), the UK economy experienced a modest expansion of 0.1% in Q1 of 2023 (January to March). However, the monthly estimates indicate that GDP actually contracted by 0.3% in March 2023, following a flat month in February 2023.
The services sector played a significant role in driving growth during the first quarter. Information and communication activities witnessed a growth of 1.2%, while administrative and support service activities expanded by 1.3%. In other sectors, construction saw a growth of 0.7%, manufacturing grew by 0.5%, and the overall production sector experienced a slight increase of 0.1%. Overall, the UK economy remains 0.5% smaller than before the Coronavirus started.
Before the GDP report which was released on Friday, the Bank of England's decision to raise interest rates by 25 basis points on Thurday, bringing the cash rate to 4.50%, was not much of a surprise. This hike marks the 12th consecutive hike in the ongoing cycle of tightening rates. The cash rate has now reached its highest level since 2008.
Following the rate announcement, the BOE Governor Andrew Bailey stated that the Bank would remain committed in its efforts to ensure that inflation returns to the target of 2%. This indicates the Bank's determination to keep inflation under control and maintain price stability in the economy, as well as suggesting further tightening in the coming meetings.
Although, markets are sort of convinved that the BOE won't exceed the 5% terminal rate top, which we are approaching. So, this has turned the sentiment negative for this pair, while the USD has been gaining some momentum on the other hand. In the last two days of this week, GBP/USD lost more than 200 pips, which is a atrong bearish signal. Although the USD strength also contributed to this and the decline stopped right at the support level. If the support holds then we might see a bounce, otherwise the price might head down to the 50 SMA (yellow) which is 200 pips lower.