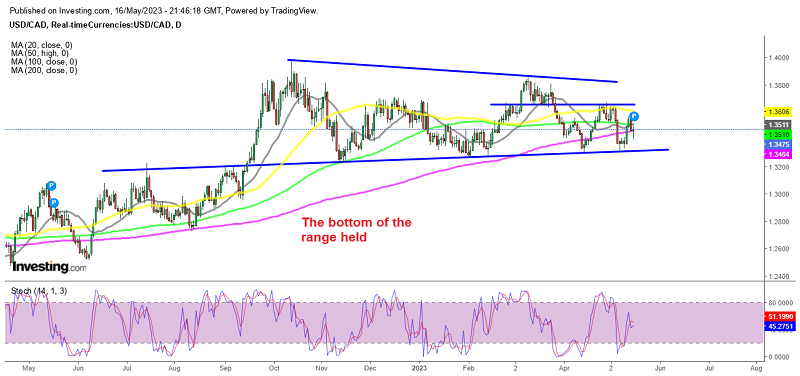 Canadian and US Data Keeping USD/CAD in a Range
Yesterday we witnessed some USD strength, which was supported by a number of positive US economic indicators. The retail sales control group exceeded expectations by rising 0.7% compared to the 0.3% that was expected. Although the headline retail sales figure was weaker, the market looked beyond that and the USD gained additional strength.
Consequently, commodity currencies, as a whole, experienced weakness against the USD. However, the Canadian dollar (CAD) performed relatively well due to a strong consumer inflation report (CPI). As a result, USD/CAD fell around 60 pips. Although the decline in this pair to 1.3405, was completely reversed later, influenced by a decline in crude Oil prices and equities.
The April Consumer Price Index (CPI) report for Canada revealed a year-over-year increase of 4.4%, surpassing the 4.3% recorded in March. This marks the first acceleration in inflation since June 2022. The main contributors to this rise were higher rental prices and increased mortgage interest costs. On a monthly basis, the CPI rose by 0.7%, up from 0.5% in March, with gasoline prices playing a significant role in this increase.
The CPI rose by 0.6% MoM, while the core CPI (excluding volatile components) rose by 0.7%. Although these numbers are not reflected in the year-over-year (YoY) figures, they are still considered disappointing and could potentially prompt the Bank of Canada (BOC) to deviate from its previous stance of maintaining a pause in its policy.
Canada CPI Report for April 2023
April CPI YoY 4.4% versus 4.1% expected
March CPI YoY was was 4.1%
CPI YoY 4.4% vs 4.1% expected
CPI MoM 0.7% vs +0.4% expected
Prior MoM reading was 0.5%
Gasoline prices -7.7% vs -13.8% y/y in prior month (largest decline since July 2020)
Gasoline prices 6.3% m/m vs -1.2% prior month. The gain was the largest since October 2022 and contribute the most to the CPI gain this month
Food 9.1% vs +9.7% y/y prior
Mortgage interest costs 4.9% y/y vs 5.4% increase in March. Year-on-year interest costs +28.5%. Rents increased by 6.1% in April
Core measures:
BOC core CPI y/y 4.1% vs 4.3% last
BOC core CPI m/m + 0.5% vs +0.6% prior
Median CPI 4.2% vs 4.3% expected. Prior 4.6%
Trimmed mean CPIP  4.2% vs 4.1% expected. Prior 4.4%
Common CPI 5.7% vs 5.5% expected. Prior 5.9%