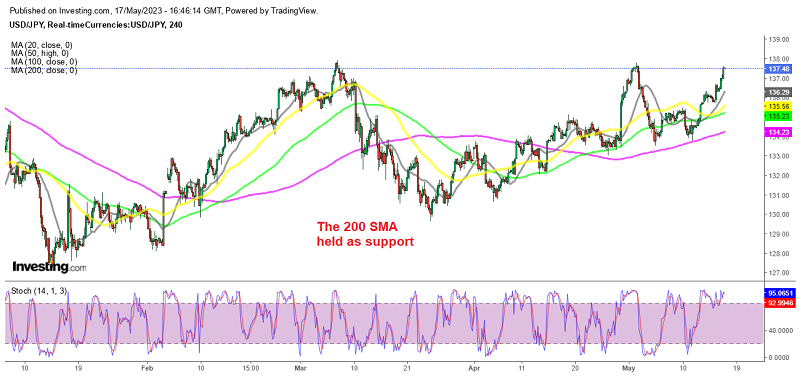 Fundamentals Improving the Sentiment in the US Session
It seems like the bullish trend USD/JPY has changed after the strong retreat in March when the banking crisis was at its peak. Now, this pair is approaching new session highs and aims to reach the high from early this month which comes at 137.76, with a potential target at 137.91, the highest price of the year. Today's high has stretched up to 137.56 so far.
Earlier, the price surpassed its 200-day moving average of 137.06 and a swing area between 136.91 and 137.10, indicating a move away from the moving average level. Another swing area exists at 137.91 as we mentioned above. As long as the price remains above the 200-day MA and the lower boundary of the swing area, buyers maintain control.
On the H4 chart, we see that the 200 SMA (purple) is acting as support, holding the retreat earlier this month. A number of factors are contributing to today's bullish momentum in this pair, which comes as risk sentiment improves while safe havens such as the JPY  retreat.
One of the reasons are the constructive comments from Republicans regarding the debt ceiling, although, some argue that being overly concerned about the debt ceiling is unnecessary. Throughout its history, the US has raised the debt ceiling 78 consecutive times without defaulting, indicating that the country will meet its financial obligations.
Comments from Biden on the Debt Ceiling
We're going to come together because there is no alternative
This negotiation is about the outlines of what the budget will look like
The leaders all agree that we will not default
It would be catastrophic if the US did not pay its bills
We will continue discussions until we reach a deal
Over in the Senate, minority leader McConnell said that "After meeting with Speaker McCarthy, the president finally, finally designated specific members of his staff to negotiate with the speaker's office directly. I'm glad he's taken advice I gave him back in February."
Besides that, the Atlanta FED GDPNow tracker for 2Q growth rose to 2.9% from 2.6% yesterday. That is the highest level for the Q2 growth from the Fed's model.
The GDPNow model estimate for real GDP growth (seasonally adjusted annual rate) in the second quarter of 2023 is 2.9 percent on May 17, up from 2.6 percent on May 16. After this morning's housing starts report from the US Census Bureau, the nowcast of second-quarter real residential investment growth increased from -6.3 percent to 0.6 percent.