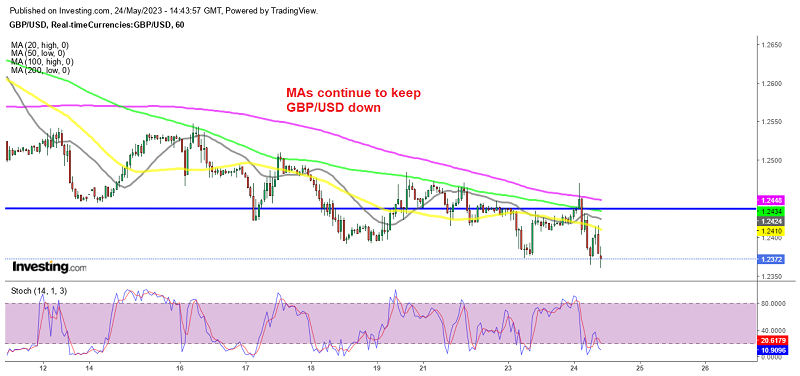 GBP/USD Continues Lower Despite Inflation Remaining Elevated
GBP/USD turned bearish two weeks ago as the USD buyers started to reappear. This pair has lost more than 3 cents since then with moving averages acting as resistance on the H1 chart. This week the downtrend has lost pace as markets were waiting for the UK inflation report, which came out mixed. Although sellers still remain in control.
The UK Consumer Price Index (CPI) data was the main focus in European trading today. Core annual inflation was running high again, reaching its fastest pace since March 1992. Although headline annual inflation fell in April, it was still higher than estimated. However, this can be largely attributed to adjustments made for base effects on energy prices. Base effects refer to the impact of price fluctuations in previous periods on the current year's data.
The high inflation numbers led the rates market to anticipate an additional interest rate hike by the Bank of England (BOE) in the coming months. The terminal top BOE bank rate, which was previously expected to be around 5.00%, is now projected to be above 5.25%.
Initially, the British pound (GBP) experienced a temporary boost against the US dollar (USD), with the GBP/USD pair reaching a high of 1.2465. But, it later reversed back down after it failed to hold above the 200-hour moving average, which is now acting as resistance. The decline in this pair was further compounded by a stronger dollar, driven by souring risk sentiment following the higher-than-expected inflation figures. GBP/USD is now trading to a low of 1.2360.
Latest UK CPI Inflation Report by ONS – 24 May 2023
April CPI inflation YoY +8.7% vs +8.2% expected
March CPI YoY was +10.1%
CPI MoM for April +1.2% vs +0.8% expected
March CPI MoM +0.8%
Core CPI YoY +6.8% vs +6.2% expected
Prior core CPI was +6.2%
Core CPI MoM +1.3% vs +0.7% expected
Prior core CPI MoM +0.9%
Boom! The headline reading may reflect a drop in annual inflation from March to April, but take a look at the core annual inflation reading instead. That's a major jump as monthly inflation figures also beat estimates handily, and that suggests that price pressures are still persisting rather strongly in the UK economy. This makes BOE governor Bailey's remarks yesterday here rather laughable. Inflation has certainly not turned the corner.