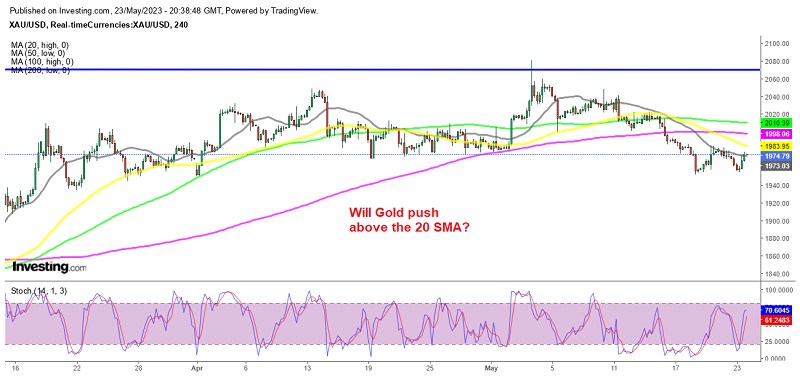 Gold Still Showing Bullish Signs on US Debt Ceiling Uncertainty
Yesterday the USD was gaining some bullish momentum in European trading, and one of the assets experiencing significant losses was Gold. The price of gold dropped by 0.7%, falling just below $1,956, reversing the gains made on Friday, following Powell's comments. This decline put Gold at risk of a further drop below last week's low of $1,952.
Regarding precious metals, Gold was not the most significant loser yesterday. Silver, in fact, experienced a significant decline, with its price dropping over 2% to reach lows around $23. But the price reversed back up, despite the bullish momentum in the USD against most other major currencies.
The 20 MSA (gray) which held as resistance on the H4 chart for Gold since Friday, was broken as buyers pushed XAU/USD above this moving average. The ongoing US debt ceiling talks have become a significant focus in the markets, potentially limiting the gains for the USD which is keeping Gold from falling further. As a result, GOLD returned to the region of $1,975-78, indicating that buyers are not giving up just yet.
Although for Gold to regain momentum, buyers would need to break above this resistance area and create some breathing space between that level and the $2,000 zone. While the recent downside break is being questioned, sellers are still holding on as they maintain the near-term key level mentioned above, currently around $1,980.38. Staying below this level would keep the near-term bias more bearish. However, a break above that level would shift the bias to a more neutral stance.
Similar technical patterns can be observed in other currency pairs involving the USD at the moment. This suggests that the overall dollar sentiment is a crucial driver of current trading conditions. Therefore, it is recommended to focus on factors that can influence the dollar, such as ongoing debt talks, Federal Reserve communications and US economic data.
Yesterday the CPI numbers from European countries showed a slowdown, so today's headline Eurozone inflation numbers should be soft as well
21 hours ago