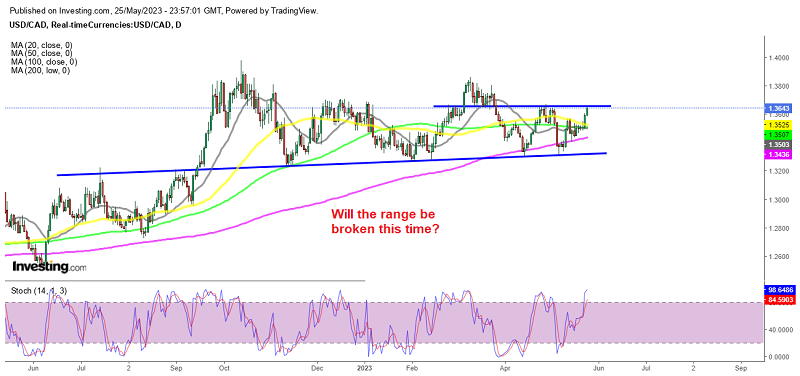 USD/CAD Facing the Resistance As Oil Reverses Lower
USD/CAD has been bullish for three weeks, as USD buyers resume control after sellers failed to push the price below the support at around 1.33. This pair bouned off the support are and has gained around 350 pips, with uncetainties about a global recession weighing on risk currencies such as the CAD.
Yesterday the price rose to 1.3650 where the resistance level comes. This upward movement in USD/CAD is part of a broader rally in the US dollar, driven by expectations of an imminent debt ceiling deal, which has raised the odds for another interest rate increase by the FED. The market is now pricing in a high probability of a Federal Reserve hike either in June or July. This has led to an increase in the USD yield differential compared to the Canadian dollar (CAD) and other major currencies.
Besides that, positive economic indicators from the US have contributed to the dollar's strength. US jobless claims have fallen, and the Q1 GDP was revised higher, indicating that the US economy is coping well with higher interest rates.
On the CAD side, there are some negative factors at play. Average weekly earnings in Canada fell to +1.45% in March from 1.88%, marking the lowest growth rate since early 2021. This suggests that the previous rate hikes are impacting the Canadian economy.
Moreover, the decline in energy prices is also weighing on the CAD. WTI crude Oil fell by $2.03 to $72.30 due to concerns about soft gasoline demand ahead of the long weekend in the US. Furthermore, there are ongoing market worries about a potential recession later in the year due to the impact of higher interest rates.
From a technical perspective, it's worth monitoring the late-April high of 1.3668 as a key level, which is the top of the resistance zone. However, it's important to note that the downtrend that has been in place since March has now been broken, indicating a potential shift in the USD/CAD trajectory.
USD/CAD Live Chart