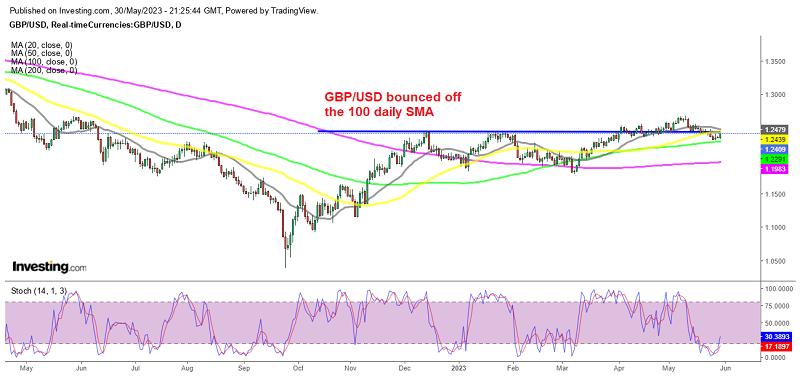 GBP/USD Trying to Decide Between MAs
Analyzing the daily chart of GBP/USD, we can observe a downtrend that started about two weeks ago, with the price falling to $1.23 lows. Taking into account the expected strength of the USD early in the day, this forex pair tested the support level at approximately $1.2305-1.2310 but then we saw a strong bullish reversal higher in the European session.
Before the US session started, there was a significant surge in GBP/USD, driven by improving market sentiment and notable technical development. The price bounced above the 100 daily moving average, which acted as a support level, with sellers unable to push the price below that indicator. It's worth noting that the stochastic indicator is also oversold on the daily chart, which indicates that the retrace of the last two weeks is complete.
Sean Osborne, chief forex analyst at Scotiabank, provided his commentary on the situation, stating that the losses in GBP/USD stabilized around the low area of 1.23. While the short-term patterns may indicate weakness, the GBP finding support in the region above the 1.23 line, has alleviated some of the downward pressure. According to Osborne, if the support at 1.23 would be breached, it could lead to further losses targeting the 1.21 zone. On the other hand, a move above 1.24 in the short term was seen as a positive development for the GBP.
Although, the bounce has stopped below the 50 SMA (yellow) which is acting as resistance on the daily timeframe now. But the stochastic indicator is now turning higher, so one of the options is that GBP/USD resumes the bullish trend.
So, the zone above 1.23 GBP/USD slowed down the pace of losses for this currency pair, and eventually the price bounced off of it. However, it's important to note that the performance of the currency pair may be influenced by significant US economic data and the reaction to the US debt agreement. So, it's crucial to stay updated with the latest developments in the market, particularly with regard to important economic data releases and any news related to the US debt agreement, as these factors can impact the direction of the GBP/USD currency pair.