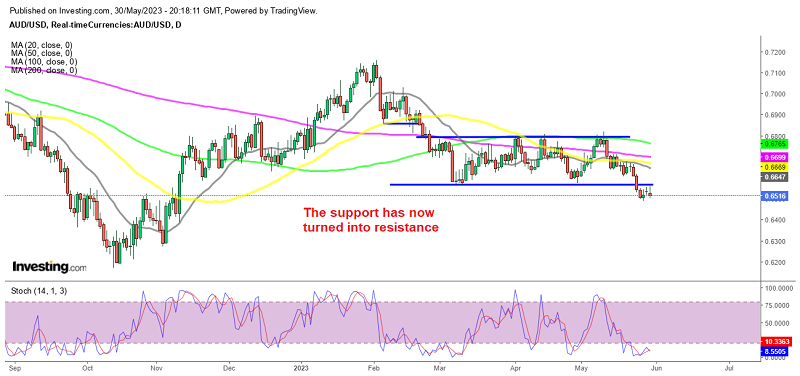 Where Is AUD/USD Headed After RBA's Lowe and May Inflation?
AUD/USD was trading in a range for about three months since February, with the top at around 0.68 and the bottom below 0.66. Although, the range was broken to the downside last week, as the USD continued to gain momentum since early May and now it seems like the bottom of the range might have turned into resistance.
During Tuesday's trading session, the Aussie experienced an initial decline but later displayed signs of resilience as the USD retreated lower. Buyers were attempting to test the previous support zone which carries considerable "market memory" with it, but they failed to push the price above it and AUD/USD reversed back down as we headed toward the speech from the Reserve Bank of Australia Lowe tonight and the CPI consumer inflation report. Although we refrained from selling this pair and instead opened a sell NZD/USD signal.
Australian CPI Inflation Report for May
Australian CPI for April 6.8% YoY v 6.4% expected
March CPI inflation YoY was 6.3%
RBA Governor Lowe Speech
Lowe says wage growth has not been a source of

inflation

RBA is in data-dependent mode
Monetary policy in restrivice territory
There is not a single variable that drives RBA policy decisions
Inflation expectations are well anchored, can't take this for granted
RBA is serious about inflation target, want also to preserve labour market gains
If inflation gets entrenched it would lad to higher interest rates and higher unemployment