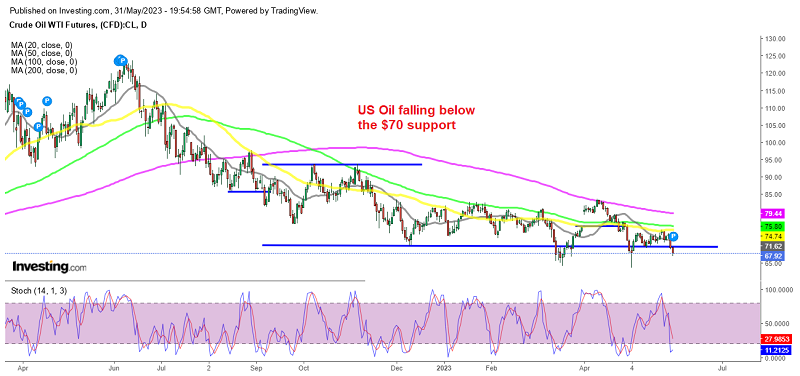 Crude Oil Resumes Decline As China Manufacturing Contracts Further
It seems like sellers have returned again in crude Oil and the larger bearish trend has resumed. Oil has been on a decline for more than a year, with moving averages acting as resistance on the daily chart, particularly the 100 SMA (green) and the 200 SMA (purple). But, recently the 50 SMA (gray) has taken over after the rejection last week, which shows that the selling pressure is picking up.
OPEC has been trying to keep the price up and we did see a major jump in early April, but the weakening global economy returned the negative sentiment for crude Oil. Reuters was out with a survey yesterday, showing that the OPEC output fell 460k bpd in May, with Nigeria, Angola and Iraq are producing materially under their voluntary and formal cuts. But that didn't help the price slide further, as the softer manufacturing data from China showed that activity fell further into contraction in May. Besides that, it could be a problem for the Oil market if the countries mentioned above would restore those flows, which would weigh further on the prices.
The secondary sources survey from Reuters
According to data from GasBuddy, gasoline demand in the United States during the Memorial Day weekend was down by -1.1% compared to last year. This indicates a sluggish beginning to the summer driving season, as lower demand implies less travel and consumption of gasoline.
Looking ahead, OPEC's Joint Ministerial Monitoring Committee (JMMC) is scheduled to meet on June 4th. However, the likelihood of any substantial action resulting from this meeting is considered low. This sentiment is reinforced by Russia's dismissive stance, as they downplayed the prospects of significant measures being taken during the meeting.