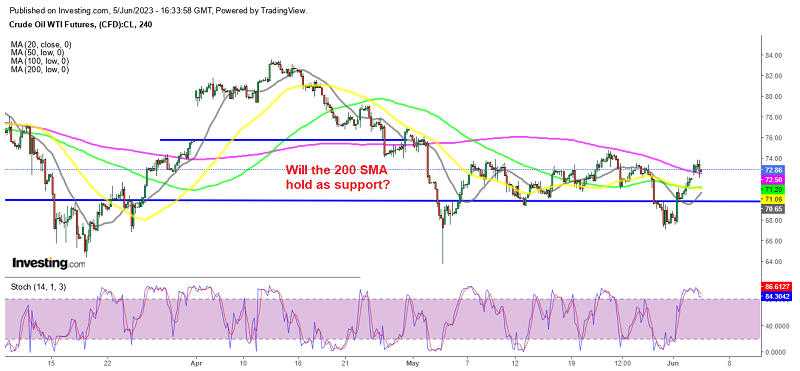 Crude Oil Can't Hold Gains After Saudi Cuts and Price Hikes
Crude Oil opened with a bullish gap yesterday at the Tokyo open, after Saudi Arabia increased the price premiums for all July crude Oil exports to Asia. The price for Arab light crude has been raised by +$3, up from the previous price of $2.55. This decision comes after Saudi Arabia implemented output cuts.
Although, despite the efforts of OPEC (Organization of the Petroleum Exporting Countries) to keep prices high, the Oil market has experienced a decline, erasing most of the gains made after the OPEC meeting which took place over the weekend. This situation is likely to have negative consequences for the OPEC group.
Sunday's OPEC meeting deviated from the usual business-as-usual approach. Typically, OPEC nations have a clear understanding of what will be agreed upon prior to the meetings, making them somewhat ceremonial. But, this time, the meeting extended beyond its usual duration as Saudi Arabian delegates insisted on further production cuts to boost Oil prices, a stance that did not receive widespread support.
Eventually, a compromise was reached, and Saudi Arabia agreed to cut its production by 1 million barrels per day (bpd) starting from July. These cuts are in addition to the existing combined cuts of 3.66 million bpd that were already in place to stabilize the oil markets.
So, US WTI crude Oil reached $73.85 according to my broker's platform, as buyers continued to push higher after the Asian open, but reversed back down, falling to $72 almost, closing the bullish gap from the weekend gap. Sellers pierced the 200 SMA (purple) on the H4 chart, but they couldn't keep the price below that. So, US Oil moved above this moving average again and the H4 candlestick closed above there, which means that the 200 SMA wasn't broken. Now it seems like this MA might have turned into support for crude Oil, so we will observe how the fundamental events affect the price action this week.