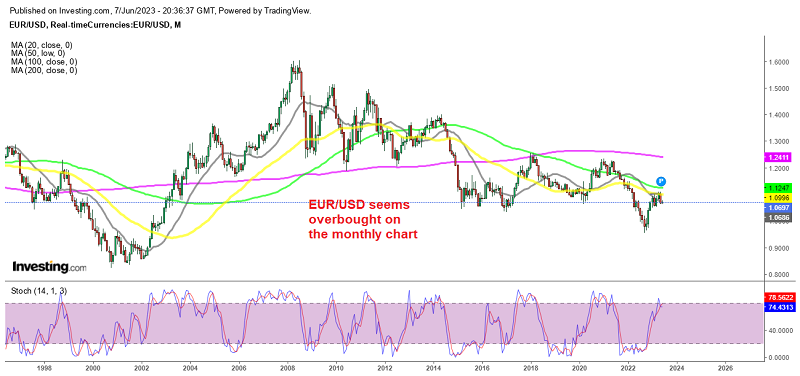 EUR/USD to Fall to Parity After Reversal, Despite Hawkish ECB
EUR/USD made a strong reversal in October last year after being quite bearish for about a year. Since then, this pair climbed more than 15 cents higher as the FED slowed down with rate hikes, but buyers failed to push the price above 1.11 and early last month we saw signs of a bearish reversal. Buyers failed to push the price above the 50 SMA (yellow) on the daily chart, so it seems like the long term trend which is bearish is resuming again.
In the last few weeks, the yield on US Treasury bonds, specifically the 10-year benchmark note rate, has increased by more than ten basis points, reaching 3.766%. This rise was triggered by the Bank of Canada (BoC) raising rates following previous meetings where rates remained unchanged. The BoC's decision to increase rates added them to the list of G10 central banks that have paused rates but had to act swiftly due to inflation proving to be more persistent than initially anticipated.
Simultaneously, hawkish remarks made by various ECB members are not supporting the Euro. Yesterday we heard Klas Knot which mentioned rate hikes again, supporting the EUR/USD pair, pushing it back above the 1.0700 level. Knot emphasized the need for the ECB to raise rates in the next two meetings, while also expressing the importance of data dependence. He added that maintaining peak interest rates for an extended period is necessary to control inflation.
Earlier, Governing Council member Isabel Schnabel stated in an interview published by the ECB that aggressive tightening measures take longer than usual to impact the economy. Overall, these developments reflect the actions and statements of central banks, with the Bank of Canada raising rates amid sticky inflation, and the ECB signaling a need for rate increases to curb inflation, albeit with consideration for the timing and pace of such moves. Besides that, the stochastic indicator is now overbought on the monthly chart, so this looks like a good chart setup to open a long term sell EUR/USD signal and targeting somewhere above parity, probably 1.02.