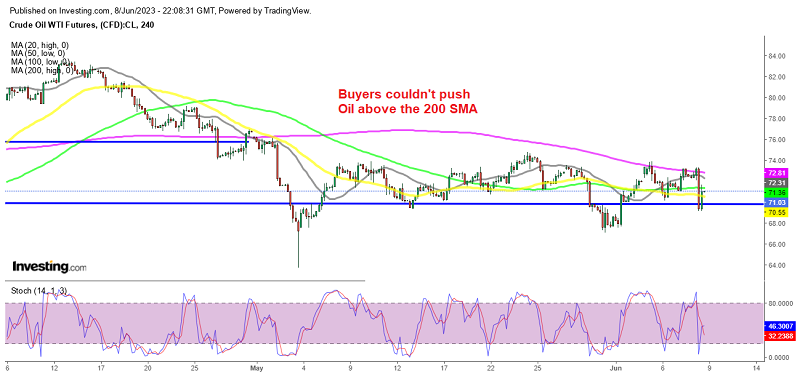 Oil Fails at the 200 SMA Again After Rumours on Iran Nuke Deal
The price of crude Oil had a turbulent start to the week, opening with a bullish gap higher and reaching a five-week high before returning to a stable range after the 200 SMA (purple) rejected the price on Monday. This type of price movement is common in various asset classes, where a range is established, broken on either side, and then retreats back into the range. Oil tested the 200 SMA and retreated within the range, but buyers returned and they kept banging Oil against this moving average.
From a broader perspective, this could be a reflection of the dilemma faced by the FED. Previously, there was a consensus that tightening monetary policy was necessary and beneficial for long-term financial stability and societal prosperity. However, now there is uncertainty surrounding monetary policy as the odds of a June hike declined yesterday after the jump in US unemployment claims to the highest since October 2021. This uncertainty was reflected in the markets.
WTI crude Oil tested the 200 SMA again twice, but they couldn't push the price too high above that level and then we saw a bearish reversal after a report from the Middle East Eye, that there are indications that the United States and Iran are close to reaching an interim deal regarding nuclear enrichment and Oil exports. The report cites a source from Iran. Talks have been held between Robert Malley, the US Iran negotiator, and Iran's ambassador to the US. However, it remains uncertain whether senior officials from both countries support the proposed deal.
From the report:
Iran and the United States are nearing a temporary deal that would swap some sanctions relief for reducing Iranian uranium enrichment activities, two sources with direct knowledge of the talks told Middle East Eye. According to an Iranian official and a person close to negotiations, the talks have taken place directly on US soil, marking a notable development in the diplomatic process. However, there is still reluctance on the US side to rejoin the 2015 nuclear deal known as the JCPOA, they said.
The two sides have reached an agreement on a temporary deal to take to their superiors, the report says. It would allow Iran to export up to 1 million barrels per day and gain access to frozen funds abroad. Although later in the day we heard rumors that the first rumours weren't true and Oil climbed around $2.50 but closed the day down nonetheless.