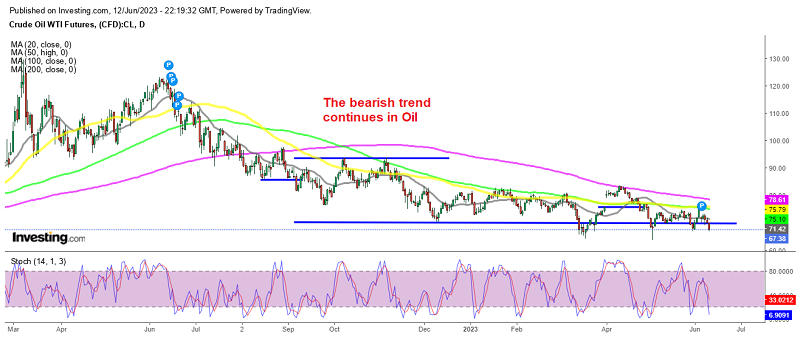 Crude Oil Continues the Slide on FED Surprise Fear
Crude Oil turned bearish late last week and yesterday it continued to slide lower, with US WTI crude falling more than $3, from above $70 to below $67, while most of the other markets were quiet. So, the Oil market is displaying some unexpected trends. While stock futures were slightly bullish and the Australian dollar was performing well in forex, there was a surprising $3 decline in crude Oil prices, bringing it close to last week's lows. The reason behind this decline was not apparent as the economic calendar was quite light.
One potential factor could be the market's disappointment with the reaction to the Saudi production cut. This disappointment may have led some bullish investors to sell their positions, although it is not necessarily something that would unfold on the same day.
Another possible driver for the decline could be speculation about another significant build in U.S. Oil inventories this week due to low exports. Although this pattern of weakness in Oil prices early in the week followed by strength towards the end has been observed before.
Besides that, some traders might be following the recent call from Goldman Sachs after the investment bank revised lower its previous forecast of December Brent crude Oil prices from $95 to $86. However, it is uncertain if people are actually selling based on this Goldman Sachs call. It is worth noting that Goldman Sachs has traditionally been bullish on Oil, so their revised outlook could be seen as a bearish indicator.
Additionally, the most influential factor for Oil demand this year is China. An article in the China Securities Daily yesterday suggests the likelihood of a cut in the Medium-term Lending Facility (MLF) rate this week and the Loan Prime Rate (LPR) next week. This potential policy action in China could have implications for oil demand.
On the daily chart above, US WTI crude has been on a bearish trend for more than a year, as the highs keep getting lower, apart from the jump after the bullish gap, following the OPEC decision to cut production in April. Moving averages have been acting as resistance at the top, pushing Oil lower. Although the lows have been stagnating above the $63 zone, so we will see if sellers can push lower.