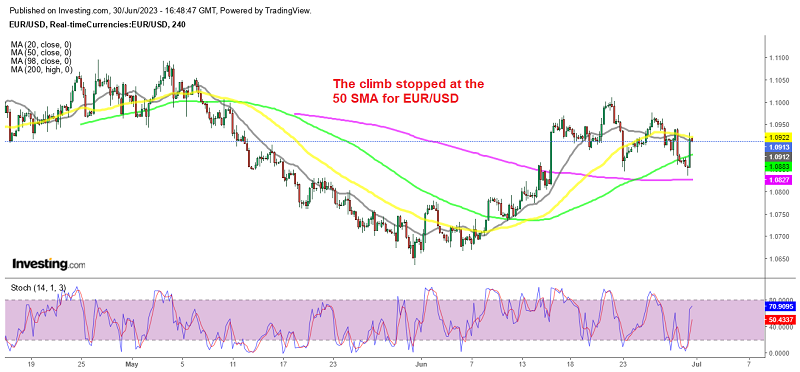 Limited Gains for EUR/USD, As Markets Expects Just One More Hike by the ECB
The European Central Bank has been banging the rate hike drums, keeping the rhetoric as hawkish as they can, particularly president Christine Lagarde. Although, such rhetoric hasn't really helped the Euro much, so the bullish momentum in EUR/USD has been mostly due to USD weakness. The economic data from the Eurozone has been showing increasing weakness recently, so the gains for EUR/USD seem to be limited, particularly as we approach the major level at 1.10.
One of the previous ECB vice presidents, Vitor Constancio, has expressed his view that due to the decline in inflation, both the FED and the ECB will stop the rate hike cycle in July. Constancio highlighted the decrease in inflation rates, with the Euro Area's HICP dropping to 5.5% (from 6.1% in May) and the US PCE at 3.8%. He believes that the signs of weakness in the Euro Area indicate a potential recession, leading to the conclusion of rate hikes by both central banks.
Furthermore, Constancio referred to a paper suggesting that US inflation is driven by demand, while in the eurozone it is primarily a result of supply shocks. This provides an additional argument for the ECB to halt its rate hikes. Overall, Constancio's perspective is that falling inflation and indications of economic weakness call for the cessation of rate hikes by both the Federal Reserve and the ECB.
On Friday, the EUR/USD pair experienced an upward movement, reentering the consolidation zone on the chart. This particular area, ranging from 1.0886 to 1.0973, previously served as a significant resistance area until it broke lower before the price returned back up. Currently, the price is testing the 50 SMA (yellow) on the H4 chart, which stands at around 1.0920. It's worth noting that yesterday, the price retraced back into that range but encountered selling pressure around the 1.0896 level, resulting in a subsequent move to the downside.