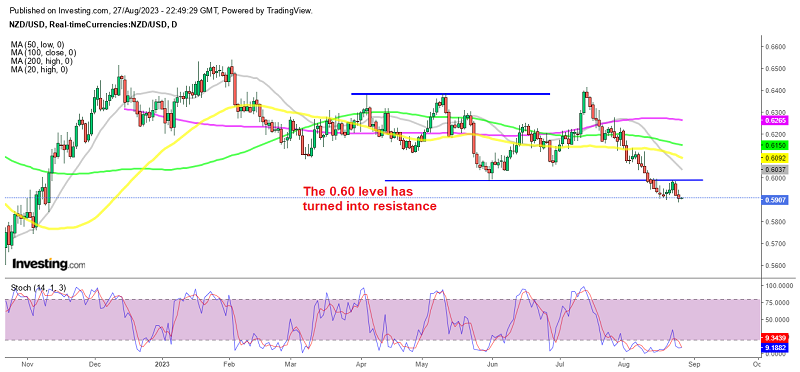 Commodity Currencies Resume the Decline, Falling to New Lows for 2023
Commodity dollars turned bearish at the beginning of August and have been declining the entire month. But by the middle of last week, there was a notable bullish move in commodity dollars such as the NZD and the AUD, as the US Dollar (USD) pulled back from its recent strong performance that had lasted for about a month. This shift benefited risk currencies, and as a result, the AUD and the NZD experienced a significant increase of around 100 pips.
But, the bullish momentum didn't last long and sellers returned again, On the AUD/USD chart below we can see a bearish engulfing candlestick after a strong day on Wednesday, followed by an even larger candlestick on Thursday. The US manufacturing and services sectors which were released on the same day, turned out to be lower than initially anticipated but the US services sector managed to maintain its expansion, while the European counterparts experienced a decline and fell into a state of contraction.
AUD/USD Daily Chart – Bearish Engulfing Candlestick Pattern
Heading for the lowest daily close since early November 2022
On Friday we saw some volatility on Jerome Powell's comments at the Jackson Hole Symposium, but nothing much after all. The day closed down again so the bearish setup is playing out and the larger bearish trend continues. NZD/USD already closed below last week's lows, so it did close at the lowest level since November last year.
All attention now for risk assets is on the potential actions of the Chinese government to provide support to the real estate sector in China, given that China holds a significant position as one of New Zealand's and Australia's major trading partners. The Chinese government is considering measures to alleviate challenges in the housing sector in order to stimulate homebuying activity by lifting restrictions on first-time buyers and offering tax rebates. Nevertheless, the effectiveness of these measures is constrained by existing difficulties in the market and investor skepticism. This skepticism is evident in the ongoing underperformance of China's stock market.
On the other hand, FED chairman Jerome Powell provided some clarification. He emphasized that the central bank plans to maintain its current policy stance, characterized by tight measures, until there are indications of the economy slowing down and a decrease in inflation. Powell further stated that the Fed will exercise caution in response to upcoming data as they navigate decisions moving forward. So, there's nothing good going on for commodity currencies, which leaves us bearish.
AUD/USD Live Chart