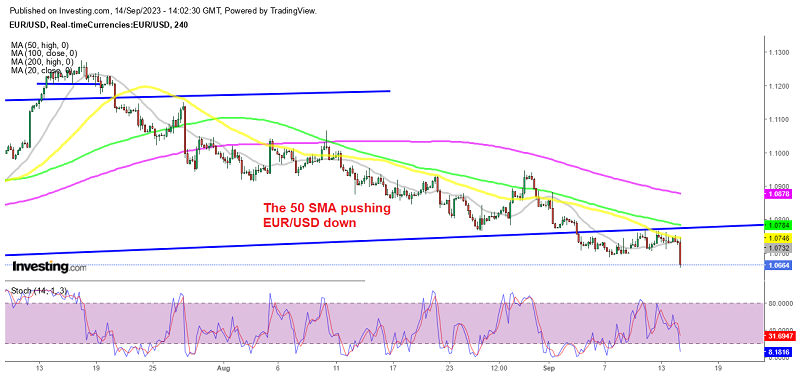 Euro Dives on ECB Ending the Hiking Cycle
Posted Thursday, September 14, 2023 by
Skerdian Meta
• 2 min read
The ECB started hiking interest rates later than most other major central banks and markets were expecting it to keep the tightening path longer than them, which was keeping the Euro bullish from October last year until July this year. But recently we have seen dovish signals from them as the Eurozone economy continues to show strong signs of a recession. The Euro has turned bearish as markets now anticipate the ECB to remain on hold before reversing the policy to accommodative.
In the wake of the ECB decision, the EUR/USD fell from 1.0730 to 1.0695, despite the central bank's 25 basis point rate rise today. The main point is that they signaled that this should be the last rate rise of the cycle, and the story is supported by weaker economic and inflation expectations for the next year.
There were other ways the ECB could have handled it today, but in my opinion, this is the worst one for the Euro. The EUR/USD pair has moved below this month's lows, reaching 1.0656, as US data also caused this pair to decline as the USD increased due to some positive economic data. Now, this pair is aiming for the May low of 1.0635.
ECB Monetary Policy Decision – 14 September 2023
Main refinancing rate 4.50% vs 4.25% expected
Prior refinancing rate was 4.25%
Deposit facility rate 4.00% vs 3.75% expected
Prior deposit rate was 3.75%
Marginal lending facility 4.75%
Prior marginal lending facility was 4.50%
Inflation continues to decline but is still expected to remain too high for too long
Past rate hikes continue to be transmitted forcefully
Financing conditions have tightened further and are increasingly dampening demand
ECB considers that key rates have reached levels that, maintained for a sufficiently long duration, will make a substantial contribution to the timely return of inflation to the target
Future decisions will ensure that the key rates will be set at sufficiently restrictive levels for as long as necessary
ECB will continue to follow a data-dependent approach to determining the appropriate level and duration of restriction
EUR/USD Live Chart