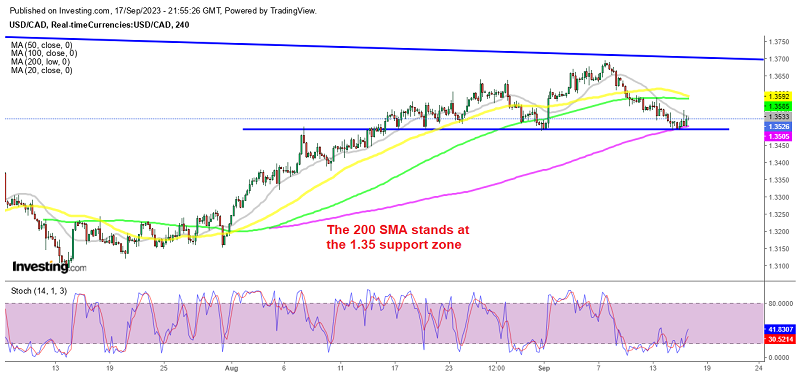 The Support at 1.35 Holds for USD/CAD in the First Attempt
USD/CAD has been on a bullish trend for nearly two months, consistently forming higher highs, which indicates that the Canadian dollar (CAD) has shown weakness as the US dollar (USD) has been gaining strength on the FED keeping the hopes up for more rate hikes.
A significant factor contributing to the bullish trend in USD/CAD has been the softening economy in Canada, which has sent the Bank of Canada to the sidelines. The market is not expecting the BOC to raise rates again which has been pushing this pair higher, but there is still lots of data before the next meeting.
However, last week we saw a 2 cent retreat which went pretty smoothly, indicating that the trend might be shifting. The bullish momentum in crude Oil lent support to the Canadian dollar, which was the strongest currency last week. Traditionally, there is a positive correlation between Crude Oil prices and the Canadian dollar. When crude Oil prices rise, it often benefits the CAD because Canada is a major exporter of Oil.
WTI Oil H4 Chart – MAs Keeping the Price Supported
The price bounced off the 20 SMA on Friday
So, as Oil prices continue to grow due to production cuts implemented by Saudi Arabia in cooperation with the OPEC+ group, the CAD should benefit.  Although it wasn't taking advantage in the last two months, with USD/CAD surging to 1.37. But last week this pair changed course and retreated 200 pips lower to 1.035 lows, where it met the 200 SMA (purple) which added further strength to the support and resistance zone at this major zone.
The economic trouble in China has been helping to keep risk sentiment damp thus sending this pair higher, but last week we saw some positive figures. China's annual Industrial Production increased by 4.5%. This figure indicates the growth in the output of China's industrial sector over the past year, while Retail Sales expanded by 4.6% which shows robust demand domestically. However, one-time robust economic data is insufficient to warrant economic growth in an economy. SO we will follow the price action to see if sellers can push below this support zone or if buyers will come back in and resume the larger bullish trend.