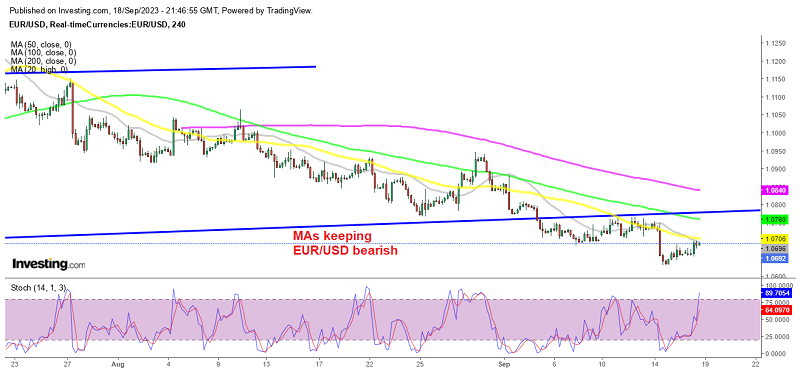 EUR/USD Gets A Boost Ahead of the Final CPI Numbers for August
The euro has been bearish since July as the USD turned bullish while the ECB turned dovish on deteriorating European economy. Last week EUR/USD made another important break below the 1.07 level, after the European Central Bank delivered the last rate hike. Although, yesterday this pair made some considerable gains as the Eurozone yields were approaching their highs for the year.
Investors have been uncertain about European debt following the decision by the European Central Bank (ECB), which has been another factor weighing on the Euro. However, recent developments suggest that Germany may consider subsidizing industrial energy costs, and Italy is planning to increase spending. These factors are seen as contributing to upward pressure on the Euro.
As a result of these developments, the Euro climbed around 70 pips higher, touching 1.07 yesterday. Although, considering the downtrend, it is likely that moving averages will act as resistance again and send the price back down. So we are following the price action to open a sell EUR/USD signal.
Today we had the final reading for the August consumer inflation which was expected to remain unchanged, with both the headline and core CPI expected at 5.3%.
Eurozone August Final CPI by Eurostat – 19 September 2023
August final CPI YoY +5.2% vs +5.3% prelim
July CPI YoY was +5.3%
Core CPI YoY +5.3% vs +5.3% prelim
Prior core CPI YoY was +5.5%
A slight revision to the headline figure but the positive news is that the core reading has toned down compared to July. That being said, at above 5%, it is still way too high for the ECB's liking. But we'll see how the trend develops in the months ahead.
EUR/USD Live Chart