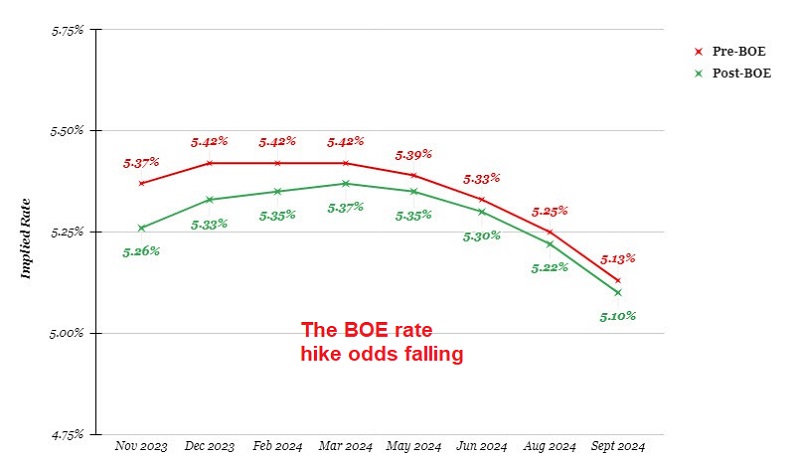 GBP/USD Below 1.23 After BOE Holds Rated Steady
Many were expecting a rate hike of 25 basis points from the Bank of England (BOE) in yesterday's meeting, although the odds were declining as the economic data from the UK kept getting worse, with Wednesday's consumer inflation numbers showing another slowdown in August, against an increase expected. But, the BOE kept rates as they were at 5.25%.
The BOE has now joined the other major central banks in stopping their incredible cycle of tightening. Today we saw another surprise stop from the SNB earlier in the day, so there were two rate hikes priced in for today and none materialized. So, what does this mean for the GBP?
The most obvious change in OIS pricing is a move lower on the curve. Traders are no longer as certain that the BOE would raise rates again. many were expecting this to be the last hike by the BOE, but it now appears there may be a possibility that they might continue to raise rates in November before formally halting.
GBP/USD H4 Chart – MAs Keeping This Pair Bearish
The next target is 1.22 before 1.20
This was a bit of a surprise and the GBP slipped lower on the initial reaction, with GBP/USD dropping from around 1.2295 to 1.2240 lows. Given the technical picture, the decision could set off a further selloff in the GBP as traders look to readjust their pricing on the BOE outlook.
Bank of England Rate Decision
BOE leaves bank rate unchanged at 5.25% vs 5.50% expected
Prior rate was 5.25%
Bank rate vote 4-5 vs 8-1 expected (Bailey, Broadbent, Dhingra, Pill, Ramsden vote to hold)
Underlying growth in the 2H 2023 is likely to be weaker than expected
Labour market remains tight by historical standards
CPI inflation is expected to fall significantly further in the near-term
Monetary policy will need to be sufficiently restrictive for sufficiently long to return inflation to the 2% target sustainably in the medium-term
Further tightening in monetary policy would be required if there were evidence of more persistent inflationary pressures
GBP/USD Live Chart