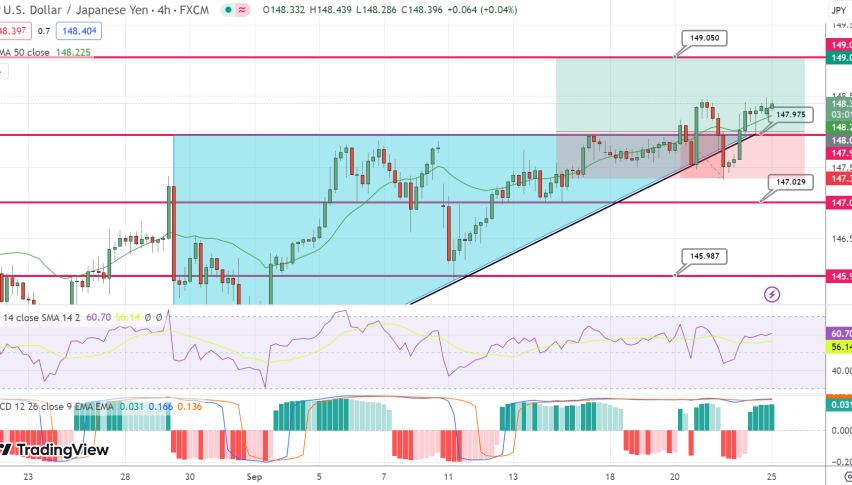 USD/JPY Analysis: Monetary Divergence and Currency Interventions Drive Volatility
Posted Monday, September 25, 2023 by
Arslan Butt
• 2 min read
During Monday's Asian session, the USD/JPY pair achieved its loftiest levels since November 2022, though it remains hesitant to extend gains beyond the mid-148.00s range.
Amidst rumors of potential Japanese governmental intervention to stabilize the domestic currency, coupled with a tempered risk sentiment, the Japanese Yen (JPY) finds some defensive backing. Japan's Finance Minister, Shunichi Suzuki, has vocalized concerns over the yen's recent depreciation, asserting that the government remains open to all strategies to curb unwarranted currency market volatilities.
Consequently, this cautionary stance has left investors circumspect about bolstering their bullish positions in the USD/JPY duo.
However, the downside risk is mitigated, largely attributed to the pronounced policy divergence between the Federal Reserve (Fed) and the Bank of Japan (BoJ). As anticipated, the US central bank maintained its interest rates post the September policy assembly but showcased a willingness to adjust rates to bring inflation back to its 2% benchmark. In fact, ongoing inflationary pressures in the US might necessitate another 25 basis points rate increase by year-end. The Fed's 'dot-plot' further projects a modest two rate reductions in the upcoming year, in contrast to the previous four. With consistent US economic indicators, the Fed seems poised to sustain elevated rates.
Conversely, the yen grapples with the BoJ's recent abstention from signaling any shifts from its accommodating stance. Following the meeting, BoJ's Governor Kazuo Ueda emphasized the bank's unchanged policy direction, underscoring that a stable 2% inflation remains an elusive target, hence, the continuation of their expansive monetary policy.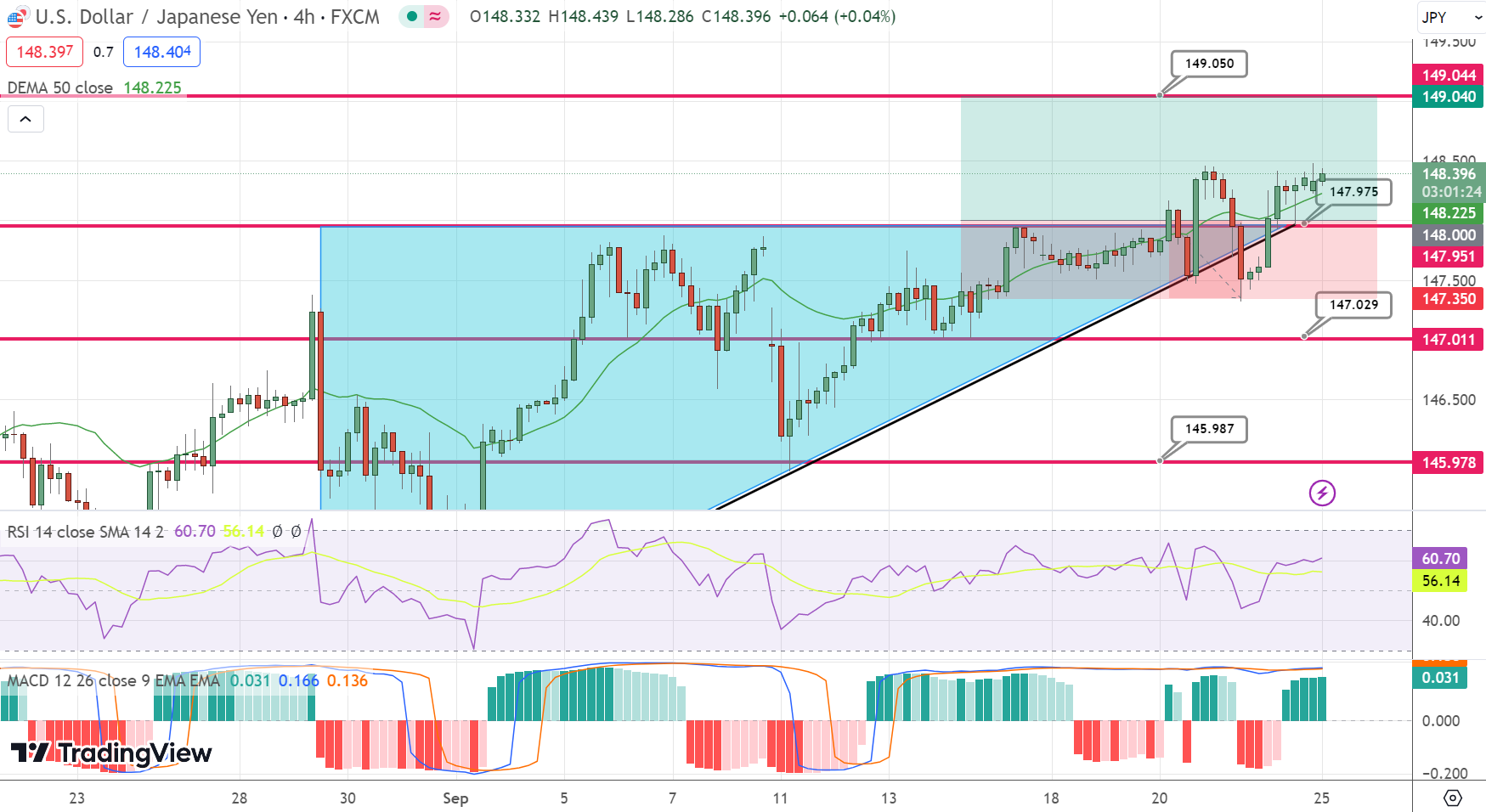 Given this foundational scenario, the USD/JPY pair appears to favor bullish undertones. Consequently, notable downward adjustments could present buying prospects, especially given the absence of significant economic pronouncements this Monday.
Technical Analysis of USD/JPY:
After a minor retraction to the 200-hour Simple Moving Average (SMA) on Thursday, the pair recuperated during the early hours of Friday. With a consistent weekly ascent, it's edging towards this week's pinnacle of 148.46. A cursory analysis of daily candlestick movements paints a bullish picture for the USD/JPY , marking a near 8% climb since its July nadir around 137.20.
This buoyant trajectory is further buttressed by the 34-day Exponential Moving Average (EMA), with the US Dollar registering a 13% appreciation against the yen this year.