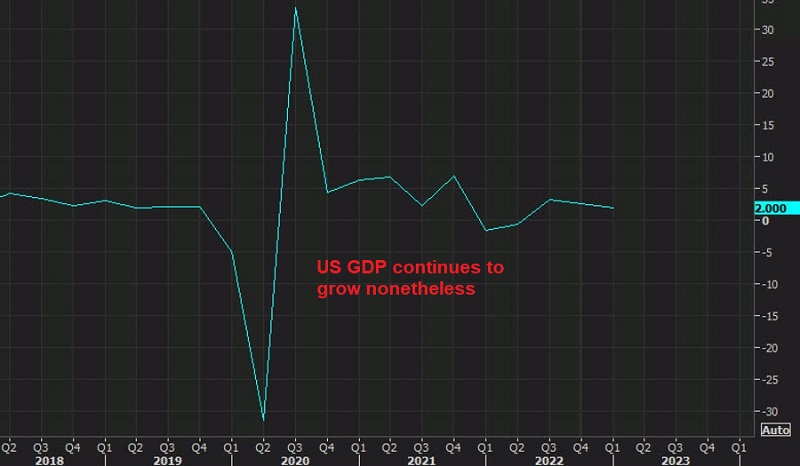 USD Wobbles After Softer GDP Report Details
Posted Thursday, September 28, 2023 by
Skerdian Meta
• 1 min read
The USD has been bullish as the economic data has been decent in recent weeks, showing that the US economy is not going to fall into a recession. Although this week's figures have been more mixed, starting with softer Conference Board Consumer Confidence and lower New Home Sales, but yesterday we saw some positive durable goods orders numbers. Today, the final GDP reading was released, together with a bunch of other data.
The 'final' Q2 GDP reading was a while ago. Of fact, when it comes to GDP, nothing is truly definitive because it is frequently amended further ahead. In any event, this was the third reading, which isn't generally a market mover, but it attracted some attention nonetheless.
The Third and Final Reading for the Q2 2023 GDP
Q2 2023 final GDP +2.1% vs +2.1% expected
The Q1 second reading was +2.1%
Final Q1 reading was +2.0% annualized
Q4 was +2.6% annualized
Details:
Consumer spending +0.8% vs +1.7% prelim
Consumer spending on durables % vs -0.3% prelim
GDP final sales +2.1% vs +2.2% prelim
GDP deflator +1.7% vs +2.0% prelim
Core PCE +3.7% vs +3.7% prelim
Exports -9.3% vs -10.6% prelim
Imports -7.6% vs -7.0% prelim
Business investment +5.2% vs +3.9% prelim
Corporate profits +6.9% vs -10.6% prelim
Percentage point changes:
Net trade pp +0.04 vs -0.12 pp prelim
Inventories 0.0 pp vs -0.09 pp prelim
Govt pp +0.57 vs +0.58 pp prelim
The headline may lead you to believe there is nothing noteworthy here, but the consumer was significantly weaker in the quarter, while inflation was lower. Both of these developments are significant for future monetary policy. Corporate earnings were also significantly higher. Following the publication, the market is focusing on the weaker consumer statistics, with the US dollar and Treasury rates falling.