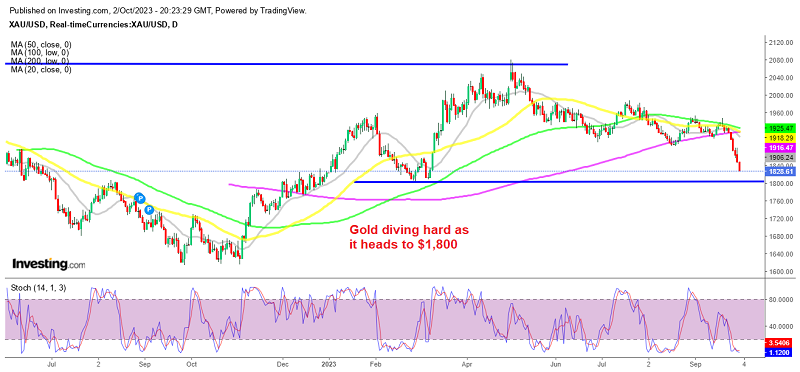 Gold Heading Toward $1,800 After Plunging More Than $120
Despite Friday's softer core Personal Consumption Expenditures (PCE) inflation, Gold has been under pressure as the USD keeps making gains, with the USD index DXY attempting to get back at this year's highs at 107 points. The likelihood of the Federal Reserve (Fed) making a hawkish interest rate decision at its November monetary policy meeting fade is keeping the USD up and everything else bearish. XAU/USD is struggling to find a footing as Treasury yields continue to rise.
The ISM Manufacturing PMI for September came in higher than expected yesterday. The economic data landed at 49.0 points, beating expectations and August's number which stood at 47.7 points and 47.6 points respectively.  Besides that, the market sentiment remains negative owing to softer Caixin Manufacturing numbers from China on Sunday.
Besides that, we have heard hawkish comments from the FED and yesterday FOMC member Bowman reinforced the idea of another rate hike, as the US economic data remain resilient. Gold has lost around $120 since the highs last week and there's no support in sight until $1,800 where this year's lows come.
FED Bowman's Comments from Yesterday
It will likely be appropriate to raise rates further and hold them at restrictive level for some time
Inflation remains too high
Sees risk that high energy prices could reverse some of the recent progress on lowering inflation
Frequency and scope of recent data revisions complicates task of projecting how economy will evolve
Expects progress to be slow on inflation given the current level of monetary policy restraint
Remains willing to support rate increase at a future meeting if data indicates progress on inflation has stalled or is too slow to return it to 2% in a timely way
Regulators seem to be engaging in 'heavy-handed' supervision of banks
Heavy-handed supervision? Does she remember what happened in March?
As for her comments on monetary policy, I they're nothing new. She's been hawkish for awhile and the rest of the FOMC appears to be headed in her direction.