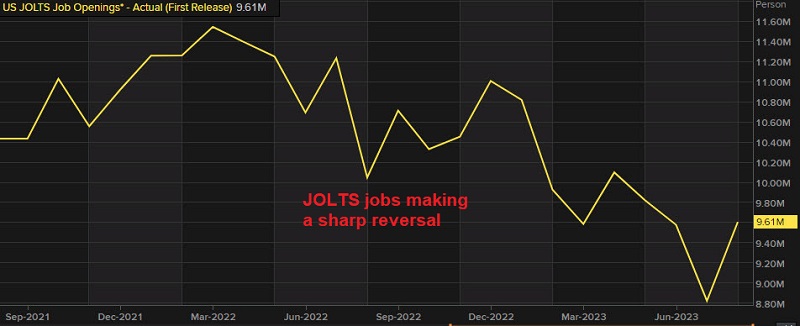 USD to Remain in Demand on Increasing Signs US Employment Is Good
The enormous rise in inflation in the US in 2022 was difficult for American consumers and the economy. The FED and other central banks began a significant policy tightening cycle despite the fact that inflation was caused by external causes, and was projected to cause much more suffering as borrowing rates surged too.
The common misconception was that when the FED rates increased, consumers would cut down on spending, which would lead to businesses cutting down on spending too, employers laying off workers, and unemployment rising. But, as we have seen in the last few months, the economy has shown resiliency thus far and the economic data keeps impressing, particularly employment. Interest rates have risen, although inflation has fallen from close to 10% by the middle of 2022 to 3.7% as the last CPI report showed. However, the unemployment rate has barely moved since March of last year, when the FED began enforcing the quickest tightening pace in decades.
The employment sector in the United States has been in the vanguard of this economic resiliency, as recent figures reveal. The only employment statistic that was slowing was JOLTS job vacancies, which fell below 9 million in July. However, yesterday's JOLTS employment data indicated a leap beyond 9 million, with a 9.61 million rise vs an expected 8.8 million jobs.
JOLTS Job Openings for August 2023 Details
JOLTS job openings for August 9.61M versus 8.800M expected
Prior was 8.827m
Hires 5.8% vs 3.7% prior
Separations rate 3.6% vs 3.6% prior
Quits 2.3% vs 2.3% prior
This study will do little to help the bond market. The US dollar is rising across the board as evidence accumulates that the US labor market is in good shape.
If employment and other sectors remain resilient, the US economy may achieve the "soft landing" that everyone was hoping for – containing inflation without sparking a major recession. Powell is sounding less dovish now as the labor market has shown remarkable strength. The JOLTS job openings fell below 9 million but they are back up now, so it is all looking good for employment. We have been long on the USD as a result, and decided to open a sell GBP/USD signal earlier on.