How to use Crypto Signals When Trading With Poloniex?
Poloniex Exchange is a digital assets trading and exchange platform. The exchange is a subsidiary of M/S Polo Digital Assets Limited, a parent company. The parent company has its headquarters in the Republic of Seychelles, where it was established and registered. Hence, the headquarters of the Poloniex Exchange subsidiary is also located on the African Island.  
The exchange legally operates in a lot of countries except for a few such as the United States, Sudan, Cuba, North Korea and Syria. Poloniex processes nearly 5,000 Bitcoins worth of transactions per day. 
Initially, Poloniex had its headquarters in Delaware, U.S. The exchange was also established by Tristan D'Agosta in 2014. However, the exchange faced a cyber attack in 2014 just days after its launch, which resulted in a loss of $50,000.
The exchange took it upon itself to bear the loss and returned an equal amount of the lost BTC. It would later rise from the setback in 2016 and increase its daily trading volume. In fact, Poloniex was the first crypto exchange to list Ethereum (ETH). 
Pros and Cons of Trading on Poloniex
In this section, we are going to look at some of the pros and cons of trading on the Poloniex cryptocurrency exchange platform. 
Pros
Relatively low trading fees compared to other major cryptocurrency exchanges.

User-friendly interface featuring English and a lot of other languages.

Easy to user order book with trading view charting

Lots of diverse cryptocurrencies to trade.

Leveraging and trading futures is supported.

Supports both web and mobile versions of Poloniex. You can trade on the go. 

24/7 customer support

It has a decentralized exchange called Poloni DEX and a launchpad known as the Poloniex Launch Base.
Cons
A limited number of fiat deposit options.

Poloniex is a freely regulated exchange

The order book does not support fiat currencies. 

Two occasions of hacking – however, both incidents were handled effectively.
What are Poloniex Crypto Trading Signals?
Poloniex crypto trading signals are a set of buy/sell instructions for a crypto asset listed on the Poloniex Exchange, which helps you to form the basis of taking profit as well as the point of placing a stop loss. 
The trading signals could be manually generated by an individual or a team through scouring and analysing digital asset markets. 
Sometimes, a piece of software fed with market analytics can generate such trading signals by monitoring the markets. 
Forex trading signals have existed for decades. On the other hand, crypto signals have only existed for a few years and are a comparatively new niche. You will notice there are lots of crypto trading signal providers due to the low barriers to entry associated with crypto. The crypto market is awash with lots of trading opportunities and therefore utilizing signals is a good way to remain on top. 
A crypto signal takes the following basic format. The provider announces to subscribers to open a position at let's say $10,000 and sets a profit target at $15,000 and a stop loss at $9,000. Sometimes, the signal provider could also ask subscribers if they can add or take off risk. 
Trading crypto signals on Poloniex Exchange
Prerequisites include:
A Poloniex account. Registering on the platform will require you to pass all Know-your-Customer (KYC) in place. 

Load funds into your account. Deposit at least $50 to get started. There is no maximum or minimum amount of capital. You have the freedom to start anywhere. 

Finally, a Poloniex trading signal from your preferred crypto signal provider.
Find Futures on the Poloniex homepage. If you intend not to use leverage, go ahead and click the Trade button on the homepage.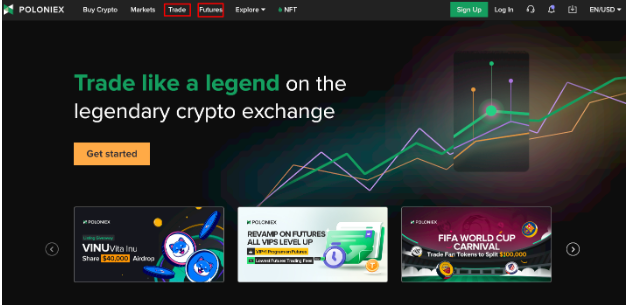 Both the Futures and the Trade Buttons are marked in red boxes on the screenshot above.
Remember to transfer the needed amount of funds into your Futures wallet. Then go ahead and choose our preferred signal pair to begin trading.
Also, remember you are trading depending on the signals you got from your provider. The parameters you will fill in include leverage, the value of your trade if $25 or $50, whether you are opening a short or long position, the stop loss and the take profit. 
Once you are done filling in the trade according to the signal parameters, the next step is waiting for the order to be filled. Simple as it sounds. If you came all this way, you are comfortable using crypto signals when trading with Poloniex. There are other advanced aspects such as taking a profit without having to close the position. However, we are going to cover such topics in subsequent articles. Take note that the above steps are the only crucial information you need to get started on Poloniex with crypto signals.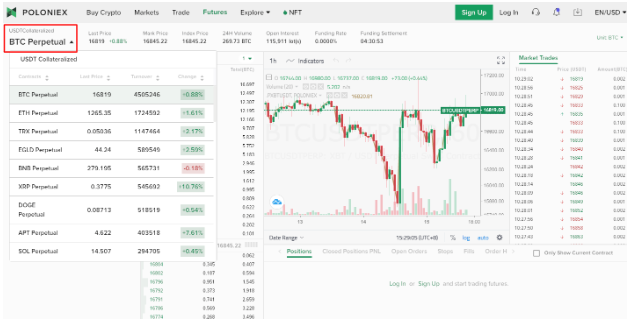 Transparency – are the signals transparent. Is the team behind the signals honest and clear about their wins and losses? Avoid picking a dubious signal provider claiming they have a perfect win rate, yet lack the proof to back up their claim. A quality and genuine provider will be honest about their losses as well. 
Frequently Asked Questions on Poloniex crypto signals
What factors should I consider when choosing a crypto signal provider?:

Here are some crucial factors to put in mind when choosing a good signal provider. 
Experience

– Consider how long the crypto signal provider has been in existence. If they are only a few months old, things could easily go wrong. They could get bored, undergo a difficult experience and lack the technical know-how to get around that challenge. If anything, pick a credible provider with a seasoned team of experienced traders. 

Perfomance history

–  pick a signal provider with an exemplary track record and a history of good service provision. A positive win rate over a long period of time such as half a decade or a decade shows consistency and professionalism.

Do they have a free trial or money-back guarantee

– A money-back guarantee or a free trial translates that a service provider has the needs of the customer at hand? They intend to serve customers well and are in for the long-term growth of the business. It also means they want you to profit from their service. 

After services

– What other services does the crypto signal provider offer? Maybe it's technical analysis, news pieces, live updates or the methodology of approaching a given trade. If you get the chance to learn while you earn with trading, it's crucial to jump on board the wagon. 

Gut Instincts

– Engage your gut feelings about a given provider. If you feel there is a red flag somewhere, flag it down and move on to the next service provider. A dubious signal provider is not worth the risk. 
What are the advantages of using crypto signals when trading on Poloniex?:

Below are the advantages of using crypto signals to trade on Poloniex.
Extra pair of eyes – It is difficult to keep track of multiple markets when trading different timeframes and different market pairs. Remember you have to watch these markets nearly  24/7. It's tiring, right? Engaging a crypto signal provider will help you monitor your markets and act as your trading assistant in the long run. 

Profitable – a decent crypto signal provider will generate profit for your trading business. It does not matter whether the signals come at a fee. A professional and experienced signal provider will make you more than enough to carter for service fees.

A fresh perspective on personal bias – Sometimes you might be conflicted on the direction the market is heading. The situation rises into more conflict if you happen to get a signal that's contrary to your methodology.  However, you are going to gain new methodologies and a fresh perspective when using the signal. This is because the signal provider is more experienced than you are. Signal providers are an incredible way to horn your trading skills. 

Reducing risk – Make the right decisions even when you do not have adequate knowledge on where the price is heading. Therefore, crypto signals can help you mitigate the kind of risk that comes with wrong judgement and analysis. This will end up saving you lots of money.

Education – Crypto signals will help you learn a lot if you are new to the game. Careful analysis of the trades and incorporating newfound knowledge through signals serve as good learning horizons. You end up becoming a better cryptocurrency trader in the long run. 
What are the disadvantages of Trading on Poloniex with Crypto Signals?

: The following are the disadvantages of trading with signals on Poloniex: 
Risky – Poloniex crypto trading signals are not the magic secret to building wealth. Sometimes you could lose because a signal went wrong, or perhaps you subscribed to a subpar signal provider. Besides, poor risk management planning on your side could result in the loss of funds. 

Upfront payment – Trading a small account could be costly when you are getting charged hundreds of dollars a month. Also, it is not recommendable to sacrifice a high amount of money for a service provider you have never tested out. This could be risky to your capital. 

Trusting someone's opinion comes with risk – It is not easy to trust someone's opinion and use it as a basis for investing. Also, you never know which services have fluffed up and made up their own positive online reviews. Even when the signal provider is a decent one, the task of placing trust in them is cumbersome. 

Trading signals will never grow and horn your skills – Signal trading is different from live trading. Signals will never offer the same learning curve as trading based on your own evaluation, research and technical analysis. 
What are some risks of using crypto signals when trading?

Below is a list of some risks associated with trading on Poloniex with crypto signals:
Price Movement –

The volatile nature of cryptocurrency will always lead to dramatic price changes. Volatility could either hurt or profit your investment. Therefore treat those unexpected market changes as a double-edged sword. It is easy to lose with crypto when trading in a highly volatile market. You either make quick profits or quick losses. We however recommend using crypto signals when trading the big coins, which even if they are not at the entry-level; will still regain their position. 

Fees –

There is a cost associated with trading any cryptocurrencies. These costs could be trading, withdrawal and deposit fees. Such fees result in tight profit margins and we recommend factoring them in when calculating your investments. Imagine if you bought a coin from one exchange and expect it to sell on another exchange at 1% profit. You have to pay 0.3% in fees for each exchange. The total profit will be minus 60%. Some exchanges also charge deposit and withdrawal fees. Factoring all these costs could easily see you out of interest.
Slippage – Slippage is the extent of a price change between the time you started your trade to the time you successfully concluded the transaction. In arbitrage, it means the price could change to your disadvantage after you have just bought the coin. Slippage could be a small amount of money but it really counts in the cryptocurrency market. Crypto trading requires you to trade within tight margins and you, therefore, require to put much thought into all these costs, including the costs of a reliable crypto signals provider.