IOTA Price Prediction For 2021: Can IOTA Reclaim $1.00?
Last Update: January 11th, 2022
IOTA – Forecast Summary
IOTA Forecast: H2 2021


Price: $1.00
Price drivers: Crypto market sentiment, IOTA sentiment, Global politics

IOTA Forecast: 1 Year


Price: $1.50 – $2.50
Price drivers: Global economic recovery, Crypto market sentiment, Post COVID-19

IOTA Forecast: 3 Years


Price: $10.00- $11.00
Price drivers: Crypto market, Technicals, IoT adoption, Global politics
After peaking at nearly $2.70 in early April, IOTA has seen a steady decline in line with the entire sector. The sharp rise early in the year took price up 10 fold as many felt that IOTA was about to fulfil some analysts lofty ambitions. Price has bounced off the most recent lows of 60 cents, however, we won't likely see more upside until the entire market begins to turn things around. The first key marker will be if price can reclaim the $1.00 level which has been important as both support and resistance.
IOTA benefited immensely from the surge in the cryptocurrency market in 2017, rising rapidly from around $ 0.20 to $ 5.80 by December that year. The price eventually came down, together with the rest of the crypto market, and traded sideways for two years. But, while the rest of the crypto market surged in the second half of 2020, Iota continued to trade within a range, missing out on the recent surge, which took Bitcoin to $ 20,000 for the second time.
With the overall market turning bearish in the past few months, IOTA has seen its price fall away from the most recent highs of around $2.60. Price has moved in conjunction with the overall market and in particular Bitcoin, which is well off its recent highs. Currently price is under the key $1.00 level, however, we can see that the downtrend has been broken.
The implementation of the Internet of Things (IoT) has picked up pace since the beginning of the COVID-19 pandemic, but despite IOTA being the system for IoT transactions, it hasn't benefited from that either, which raises questions for investors. At least, moving averages have turned from support into resistance on larger period charts, so let's hope they will offer support for IOTA.
Recent Changes in the IOTA Price
| | | |
| --- | --- | --- |
| Period | Change ($) | Change % |
| 1 Month | -0.54 | -41% |
| 3 Months | -0.56 | -42% |
| 6 Months | -0.31 | -34% |
| 1 Year | +0.33 | +71% |
| 3 Years | +0.01 | +1% |
Factors Affecting IOTA
IOTA is a blockchain developed to handle transactions between connected devices in the Internet of Things system, which aims to connect all machines and human finances, enabling instant automatic payments. The implementation and evolution of the IoT will have an impact on IOTA, which is mainly expected to be positive, although it is also likely to have an impact in the longer term. Scalability is a positive factor for IOTA, in comparison to Bitcoin, although it has its own issues. The security of the system is quite vulnerable, which has discouraged investors from turning to this cryptocurrency.
IOTA Price Prediction for the Next 5 Years
Recent Developments for IOTA/USD
IOTA, which has a market cap of around $ 821 billion, has been lagging behind other major cryptocurrencies in terms of an increase in value. While most other cryptos surged in H2 of 2020, MIOTA was mostly stagnant, not increasing the market cap, which is not convincing when it comes to attracting new investors. On the one hand, IOTA could be considered the cryptocurrency of the future, since the IOTA is the network for the Internet of Things. They have reached agreements to extend the platform's utility among connected devices with prominent companies, like Bosch and Volkswagen.  
But on the other hand, IOTA's cryptocurrency, the MIOTA, won't be the exclusive digital currency for payment across the network. Any altcoins will be used for this, so the IOTA network will only act as such, which means no direct benefit for the MIOTA altcoin, although there are benefits from the scalability of its DAG technology. This technology allows users to verify 2 previous transactions in order to make a new transaction. On the IOTA network, transactions are linked together, which allows for quicker processing time and lower transaction fees. Yet, IOTA missed out on the 2020 surge in cryptocurrencies, and the fact that the founder and co-chairman, David Sønstebø, was forced to leave the Iota Foundation after a unanimous board decision in December 2020, isn't helping. 
We must remember that while IOTA has had a strong run in 2021, price is still a long way off its previous all-time highs, which reached nearly $6.00 in 2017. In reality, it has underperformed many altcoins in recent times as well.
Going forward, we will be seeing if the most recent highs can be reached if the market turns around.
IOTA Technical Analysis – Can Price Reclaim Key Levels?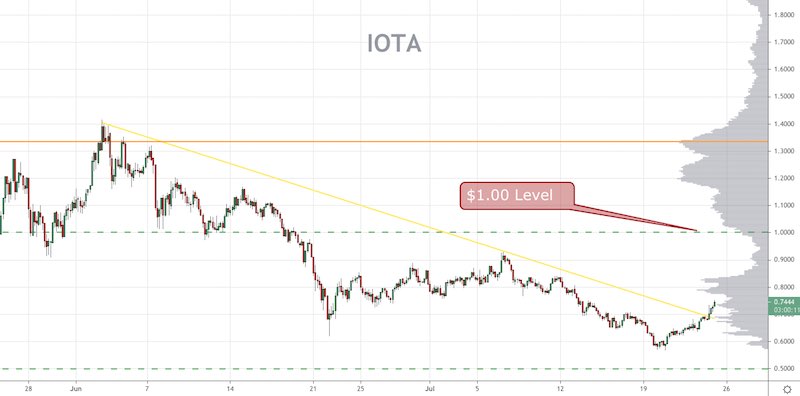 When we zoom out we can see that there are a number of key levels at play for IOTA. With price currently bearish, we need to see if price can reclaim this round number level of $1.00, which offered up both support and resistance previously.
What's even more important from a technical standpoint from IOTA is for this series of lower highs to finally end. With the most recent breakout to the upside from Bitcoin, IOTA has also rallied. WE can see that support came in around $0.60 and notably we have now had price break both the swing high and the downtrend in place at $0.70.
At this stage, there is still resistance at $0.85 and $0.90, however, if price can reclaim those we should see a strong pull back towards $1.00.
At this stage, the price forecast for IOTA is very much dependant on the overall market and in particular Bitcoin. With negative headlines and looming regulation weighing down the sector, there might very well be more downside ahead. For now, IOTA is looking bullish and we could expect a move back to $1.00.