A Double Top And A Gap Point In The Same Direction In EUR/CHF
EUR/CHF opened with a 100 pip gap last Monday after the first round of French elections put Macron ahead in the presidential run.
As you can see on the daily forex chart below, the gap took us above 12.08 for the first time in quite some time, which was the first step to flip the trend to the upside.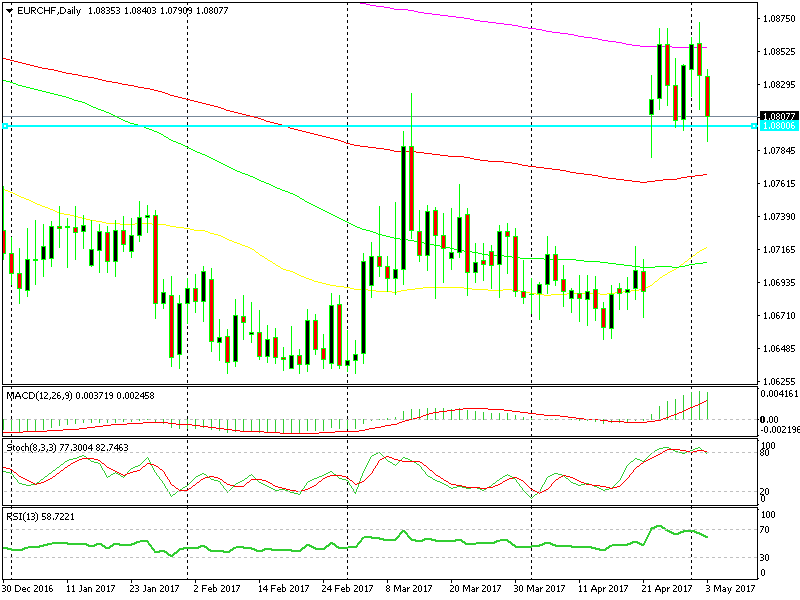 We can see a double top and a gap chart pattern in this chart 
But, the 200 SMA (purple) provided solid resistance last week and it is doing the same this week as well.  So, this run higher might be close to an end and soon we might see a retrace lower.
The daily chart is well oversold with stochastic and RSI indicators near the ceiling and starting to turn down. The top so far has been 1.0870, twice, so that counts as a double top pattern and it is actually very clear.
The neckline of this double top pattern comes at 1.08 which was the low last Friday, but that level was broken a couple of hours ago which brings this chart pattern into play.
We´re supposed to fall about 70 pips below 1.08 since that´s how big the space between the neckline and the top is, so according to this trading strategy we will dive to 1.0730.
By the way, this candlestick has to close below the neckline for the pattern to start working, because the price has moved above 1.08 now.
The gap itself is another chart pattern which points down. We know that according to forex textbooks gaps are supposed to be filled sooner or later and this gap end at 1.0680 so there´s a more than a 100 pip winning potential.
So, if the candlestick closes below 1.08, I suggest you sell with a stop above 1.0870 and an open target, but 1.0720-30 seems like a good place to take some of the profit off if we do get there because that is a tough support level.
Otherwise, if the price can´t break below 1.08 convincingly, then I might open a short term buy forex signal myself, targeting 20-30 pips.