Getting Ready to Sell EUR/CHF at the 20 SMA
A few hours ago I was looking at EUR/CHF as it was retracing from the lows at 1.1620s. at the time it was at 1.1650s and I was hopping to see 1.1680. That level has been support and resistance in the last few days, so it was a good place to open a sell signal.
Also, the 50 SMA (yellow) was standing around there as well, which would have added extra strength to that level. But, the 20 SMA took over from the 50 SMA and the price reversed after kissing that moving average.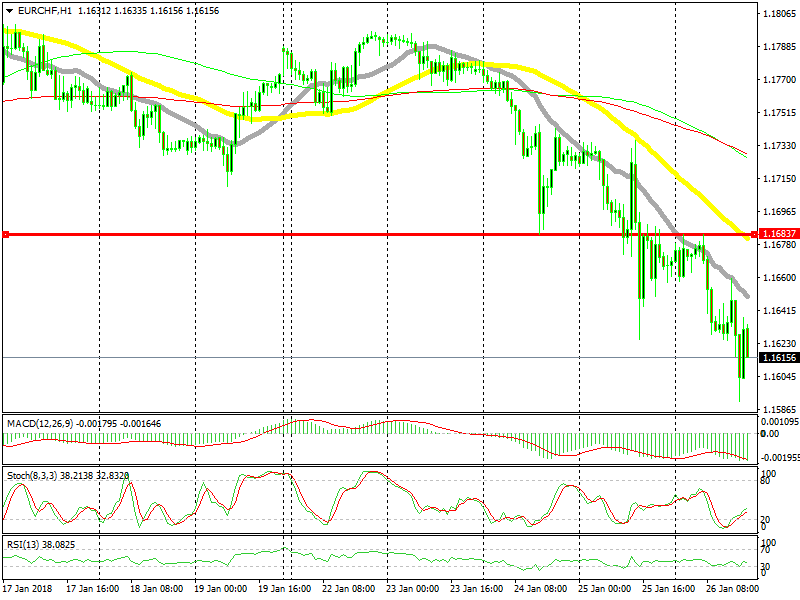 Switching from trading the 50 SMA to trading the 20 SMA
The trend can be considered quite strong when the smaller period moving averages come into play. The safe haven currencies found some strong bids after the BOJ (Bank of Japan) chairman Kuroda confirmed that the Japanese economy is expanding moderately and that inflation is progressing. That helped the CHF as well and EUR/CHF tumbled, together with USD/JPY.
Now, this forex pair is retracing higher again and we are thinking of selling it at the 20 SMA. This moving average comes at 1.17650 now. We are still about 30-40 pips below that area, so by the time we get there the stochastic indicator will have become overbought and the retrace will be complete.