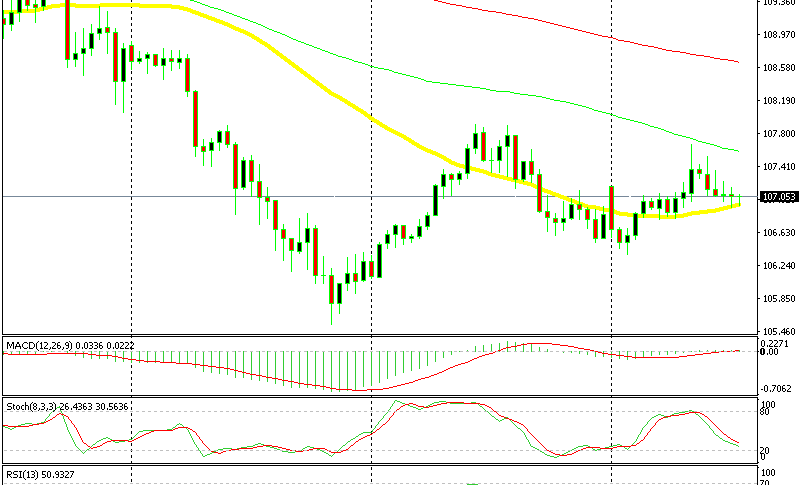 USD/JPY Back At the Big Level
Two weeks ago, USD/JPY was in a middle of a strong bearish trend. This forex pair had been falling for the last several weeks and it was facing the big support and resistance level at 105.50. That level has provided resistance to this pair a few times in this decade and it did so again this time. The sellers closed their positions at that level and price reversed higher pretty quickly, surging more than 200 pips higher in the next few days.
But, the selling wasn't over. This forex pair started sliding lower again. The comments from the BOJ (Bank of Japan) and Kuroda didn't sound that dovish to JPY traders last night, so they kept buying some more JPY.
The hardest hit for this pair came from Trump's tweets though. Trump is pushing for a trade war with the entire world with the idea that the world is taking advantage of the US. Being a safe haven currency, The JPY received strong bids and eventually, USD/JPY fell to 105.50.
We are back at this big level for the second time in no time. That doesn't look good for buyers
It pushed further below in the last few hours, reaching 105.20s. Although, that doesn't count as a proper break because the support zone stretches all the way down to 105. We must close below 105 today, so we can consider it a real break.
At the moment, the price is back above 105.50 and the 100 SMA (red) is still providing support on the monthly chart. But, the market sentiment is very negative at the moment, so both sides are at risk. It remains to be seen whether this pair will bounce again from this area of whether this level will break.
If it breaks, then the trade would be to go with it. So, I might be selling below 105 if the support is broken. The stop loss would be above 105.50 and I would leave the take profit open because, with the way things are going, this pair can reverse again in no time.