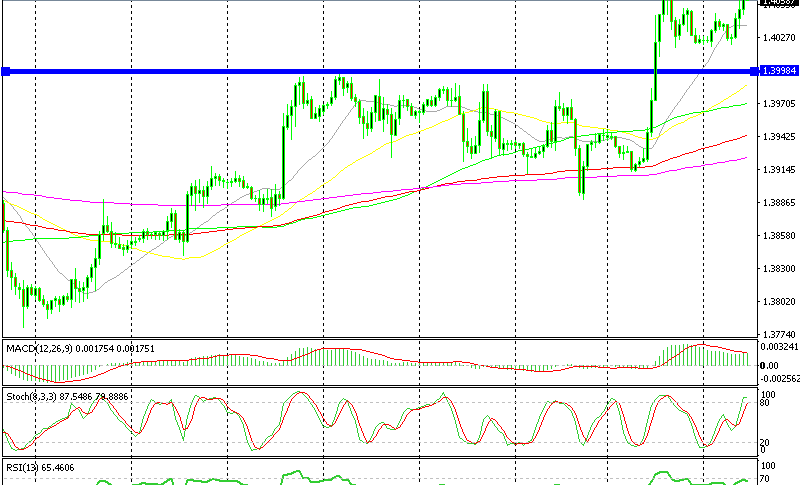 UK Inflation Report Coming Up. Can We Trade the News?
GBP Surges on Brexit Deal Hopes
The GBP has made an impressive rally yesterday, climbing from 1.39 lows to 1.4080s in several hours. The EU and UK officials made some positive comments on Brexit yesterday and GBP traders got excited. Seems like both parties are coming to an agreement, but the issues with the Irish border and the financial services are still unresolved.
Last week, 1.40 turned into resistance for GBP/USD, but it didn't do much yesterday, It was broken without much resistance, although it might be a good place to open a short term buy signal. The price is at 1.4060 now, so the retrace down has been done.
The UK CPI Report
The UK inflation report will be published soon and it might take things one step further. I would have said that this report might change the situation and reverse GBP/USD down if the numbers are too low. But that's extremely unlikely since they have been running wild for quite some time.
The previous reading was 3.0% which is way above the 2% target that the Bank of England BOE and other major central banks have as the natural target. This month is expected at 2.8%, so it is a long way from the 2% target. Inflation would have to fall below 1.5% in order to have the BOE worried.
Even in that case, it would actually be a release for the consumer and it would take off some of the inflationary pressure of the previous month. That would help the British consumer spend more on good and UK businesses invest increase investment.
The retrace is over already
The Expected Reaction in GBP Pairs
Therefore, it would be a big surprise to see this report reverse the GBP lower. If it can't send it lower, then the chances are that it sends it higher, especially if the actual CPI (consumer price index) number comes above expectations.
So, the safest bet is to open a short term buy signal. I say short term because tomorrow we have the UK average earnings report coming out and on Thursday the BOE is holding their meeting. The expectations for a rate hike this week are pretty low while odds for a May rate hike are pretty high. So, today's numbers won't change anything in relation to the BOE.
The Brexit process is still ongoing which means that forex traders won't stay to long on the long side of GBP/USD, that's why I'm thinking of opening a short term signal here. That's one way to interpret fundamentals and trade the news for the newbies out there.