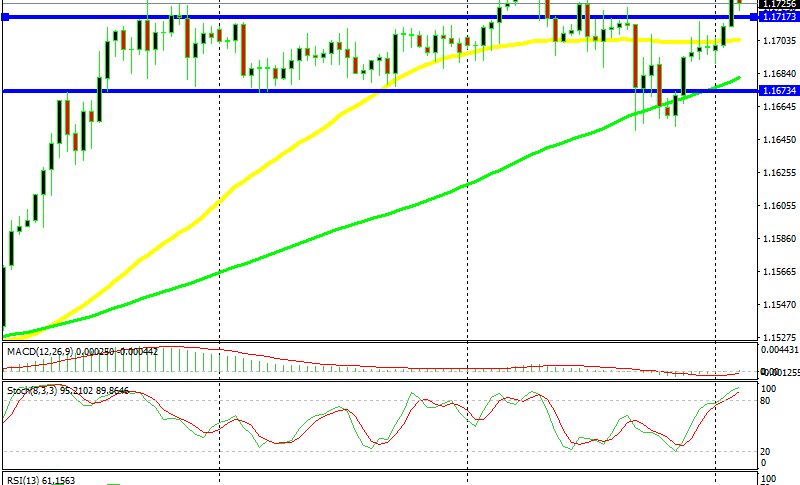 Trading the Narrow Channel in EUR/CHF Between 2 Moving Averages
The Technical Outlook
We have traded EUR/CHF reasonably often in the last two weeks. We have opened several forex signals on this pair; all of which were long on EUR/CHF. We bought a few times at the 50 SMA (yellow), then when that moving average was broken we bought at the 100 SMA (green). All of the buy signals in this pair were successful except for when we bought before the 50 SMA was finally broken.
This pair fell to the 100 SMA eventually, but it made a mild recovery and climbed to 1.17. It hung around that level, moving a few pips above and below it until the market closed on Friday.
Price was bouncing between two moving averages
We have been having a bullish opinion on this pair, but last night we saw a possible short trade scenario developing.  The level at 1.1710-15 has been some sort of resistance in the last three weeks, which is actually a buffer zone for the major round level at 1.17.  .
We wouldn't go short based just on the resistance level though. The main reason that we went short last night is that the 50 SMA was providing resistance just above 1.17. That moving average had been solid support for nearly a week until it was broken. So, last night the chances were that it would reflect price at least once and send it back down.
Besides that, the previous three candlesticks closed as dojis which are reversing signals when a pair is overbought or oversold. The stochastic indicator was overbought on the H4 chart last night when the market opened, so we decided to open a sell forex signal.
The Fundamental Outlook
The fundamental side of this pair is pretty simple at the moment. The market sentiment is dovish and the safe haven currencies benefit greatly when the sentiment is negative. The trade war between Trump's America and China is coming. USD/JPY broke below the major support level at 105 because of the worsened sentiment.
So, the fundamentals are bearish for the short term, until SNB (Swiss National Bank) threatens with interventions again. According to both technical and fundamental analysis, we decided to open a sell forex signal on this pair.