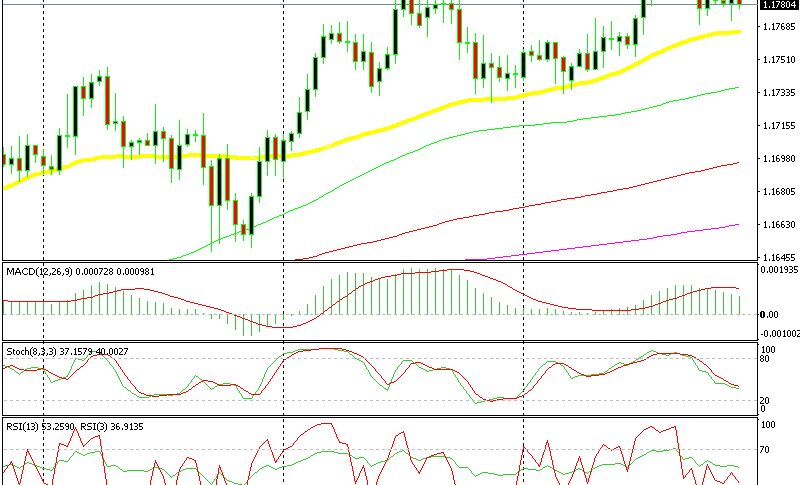 The 50 SMA Is a Great Place to Go Long on EUR/CHF
Yesterday EUR/CHF had a bearish day. It declined from 1.18 to 1.1770, which means 30 pips. It's not much, but this forex pair has been on strong uptrend and the Swiss National Bank (SNB) has given the buyers some more confidence a couple of weeks ago. So, don't expect to see 200 pips dives in this pair.
That decline yesterday brought us close to the 50 SMA on the H4 chart. As you can see from the history, the 50 SMA (yellow) has been providing solid support for quite some time.
Yesterday, the price got close to the 50 SMA by 10 pips and reversed higher. This means that the buying pressure is pretty strong since the buyers are not waiting  for the 50 SMA now, so they are jumping in higher.
The 50 SMA is the place for buyers to start buying
Today, the sellers had another go at the downside. EUR/CHF fell to 1.1770 again, which is 5 pips above the 50 SMA, But again, the buyers got activated at that level.
So, we see this area around 1.1770 as a strong support area. I am thinking of opening a buy forex signal down there, given that the last H4 candlestick looks like a hammer, which is a reversing signal. Stochastic is not oversold yet, but it's getting close, so the chart formation looks increasingly like it is going to turn bullish soon. That's the plan, buy at the 50 SMA, so we're waiting a bit longer.
The USD is feeling weak again as jobless claims came above expectations, confirming that the employment sector is feeling the pressure
2 months ago
Today the situation has reversed completely as Credit Suisse is showing difficulties, which has hurt risk sentiment
3 months ago