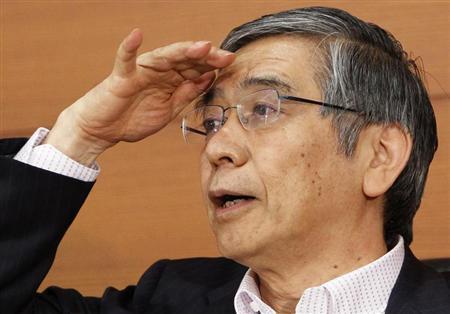 Forex Signals US Session Brief April 9 – USD/JPY Looks Increasingly Bullish After Kuroda's Comments
It has been a pretty quiet day technically since most forex majors have traded in very tight ranges. Although, we had some fundamental on-goings to take our minds off this boring price action. The fundamentals occurred in the Far East, as the BOJ commented on inflation while the Chinese continue to fight back Donald Trump, without much success though as the rest of the globe watches.
Is anyone out there hearing me?
BOJ's Kuroda Knows When to Strike
The Bank of Japan Governor Kuroda was out this morning doing his job in scaring off JPY bulls. He hasn't been very successful in trying to stop the steep decline in USD/JPY during the last three months, but now the situations has changed and Kuroda has become more confident.
USD/JPY has reversed the trend in the last two weeks so I bet Kuroda is watching the charts. I say so because when the Yen is on a bullish run and USD/JPY is on a bearish trend, Kuroda holds back as he knows he can't do much to change the negative market sentiment. He has lost face so many times in the last several years trying to talk USD/JPY higher, but eventually failing.
The market sentiment is global and Japan is not a big player at the moment. So, there's not much to do for the Japanese if they want to improve the market sentiment, which usually sends the JPY lower and USD/JPY higher.
The here month decline in USD/JPY has stopped and USD/JPY has been on an uptrend during the last two weeks, so Kuroda decided to give some dovish comments, which are bullish for USD/JPY. Here are some of his comments:
The target at 2% wasn't a mistake as all major central banks have this as they target.
The current inflation levels in Japan are far from the target
Exit will be very slow (whenever it begins)
Will continue with powerful easing to achieve price target
The Chinese vice commerce minister is calling out on other nations to protect the World Trade Organisation. But, no one wants to get between two giants when they're fighting. So, China's pleas have gone unheard recently. He also said that China is unwilling to fight a trade war but not afraid to do so.
The Chinese prime minister Li was also out today saying that trade war will only hurt everyone's interests. But, Trump is obsessed with China-US trade balance so nothing will change his mind.
Cryptocurrencies Take A Dive this Morning
Cryptocurrencies have been on a slight bullish run in the last couple of days. Remember that the crypto market remains open during the weekend. Most of brokers also allow crypto trading during the weekend, so you can trade this new market on weekends as well.
Since Friday afternoon, cryptocurrencies have been climbing higher. Bitcoin has gained about $600 during this time, but today the sellers have returned and cryptos have turned bearish again.
Ethereum has turned bearish too losing around $40. The price found resistance at the 100 SMA (grey) on the H4 chart. The area around the 100 SMA has been resistance previously and stochastic and RSI were overbought, so the reverse wasn't unexpected.
South Korea has inspected three banks over cryptocurnecy exchange connections to see their compliance with anti money laundering rules. Japan has suspended two crypto exchanges as well, but I don't think these events are the cause for the crypto decline today.
The interest has fallen for cryptos. Although, Ethereum has a chance to reverse back up. The 20 SMA (grey) and the 50 SMA (yellow) stand just below and it looks like they are providing support at the moment, so perhaps we might see a reverse.
Ethereum trades between two moving averages now
Trades in Sight
Bullish NZD/USD
The trend is bullish
The 20 SMA is providing support on the H1 chart
The retrace lower seems complete
The retrace down is over
We are already long on this pair with a forex signal which we opened last week. This forex pair is on a bullish trend at the moment and the retrace lower today is over. The 20 SMA (grey) provided support and the price formed a pin candlestick which is a reversing signal. Stochastic reached oversold levels and NZD/USD reversed back up. It is headed towards the take profit level now so we are letting it run.
In Conclusion
It was pretty quiet until a couple of hours ago, but the US traders have shaken things, so forex majors are in motion at the moment. Let's just post this US session brief quickly and concentrate on trading so we can get some pips today.